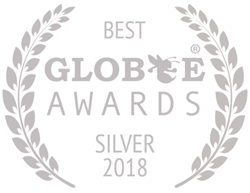 This award is a testament to SkyStem's commitment to customer service as supporting our customers is integral to SkyStem's values.
NEW YORK (PRWEB) July 24, 2018
SkyStem LLC, a provider of automated month-end close account reconciliation software, is proud to announce their silver award for the 2018 Globee® Awards Best Customer Service Team of the Year. The silver award honors Jennifer Stein for leading SkyStem's customer service team, delivering high levels of customer satisfaction, and contributing to SkyStem being consistently recognized as one of the highest rated software solutions in the industry. SkyStem's acclaimed customer service has been described by users as timely and outstanding for their flagship software solution, ART.
The team has maintained its reputation for continuously delivering high levels of customer satisfaction with their prompt support responses, earning a 98% satisfaction rating for 2018. SkyStem's initial response time to customer support tickets averages under one hour, which attributes to the high satisfaction scores. The company also values its customers' suggestions and ideas that would help improve their month-end close. For instance, over 20% of 2018 product releases were attributed to customer suggestion. SkyStem offers free customer support for all their customers, which includes one-on-one support. Because SkyStem is invested in their customers' success, they don't employ the traditional "train the trainer" model that is common in the software industry, and instead delivers training to everyone using their software.
"It's an honor to be named a winner by Globee Awards for this esteemed customer service award," said Jennifer Stein. "This award is a testament to SkyStem's commitment to customer service as supporting our customers is integral to SkyStem's values."
The Best Customer Service Team of the Year award encompasses the world's best in leadership and customer service performance from every major industry in the world. More than 80 judges from a broad spectrum of industry voices from around the world participated and their average scores determined the 2018 award winners. Winners will be honored in San Francisco on Monday, July 30, 2018, during the annual SVUS Red Carpet Awards Ceremony Dinner in San Francisco attended by the finalists, winners, judges and industry peers.
About the Globee Awards
Globee Awards were created to honor and generate industry-wide recognition of the achievements and positive contributions of organizations and businesses worldwide in every area. An annual industry and peers recognition program, Globee Awards honor best companies of all types and sizes in North America, Europe, Middle-East, Africa, Asia-Pacific, and Latin-America, best products, innovations, management and teams, women in business and the professions, and PR and marketing efforts from all over the world. Learn more about the Globee Awards at http://www.globeeawards.com
About SkyStem LLC
Headquartered in the heart of New York City, SkyStem delivers a powerful close and account reconciliation application for organizations seeking to streamline their financial processes. The company's flagship solution, ART, is an enterprise technology that helps CFOs and Controllers shorten the month-end close and the time to issue financials by automating balance sheet reconciliations, managing month-end tasks, and providing insightful reporting. The web-based solution streamlines and eliminates up to 90% of manual activities while strengthening internal controls and corporate governance.