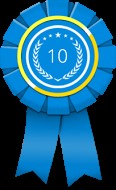 DALLAS (PRWEB) March 27, 2019
10 Best Design recently announced the winners of its Best Dallas Web Design Awards for March 2019, giving Thrive Internet Marketing Agency the top honor.
10 Best Design is a reputable and trusted organization on the Internet. The 10 Best Design team puts a lot of effort into analyzing all of the finest digital marketing companies that exist at the moment. If an individual is trying to explore all of the greatest options in businesses that concentrate on website design work, then the 10 Best Design team can help him do so with confidence. 10 Best Design meticulously evaluates all of the most acclaimed website design agencies monthly. It determines which website design agencies are the most deserving of meaningful acknowledgement as well. The organization's new awards can come in handy for people who want to make well-rounded and logical website design firm choices no matter what. People who want to unveil Dallas' greatest web development businesses can do so with the detailed assistance of the 10 Best Design crew.
In March, Thrive Internet Marketing Agency was recognized as one of the top Dallas web development agencies by 10 Best Design. It is a digital marketing powerhouse that has been in existence since around 2005. It previously was called MLB Web Design. The business has collaborated with clients that hail from all different corners of the globe. Some of these are the United States, Hong Kong and Germany.
Magic Logix is a top web design firm that earned 10 Best Design's second-place slot. This is a renowned website design staple in Dallas. The professionals who represent Magic Logix regularly assist clients with thorough design work. They frequently assist them with development practices as well.
Top web design firm Runner is the third web design firm that's on 10 Best Design's radar right now. Runner is a trustworthy digital marketing company that caters to businesses that are trying to get off the ground. The professionals at Runner have a lot of proficiency that relates to fields like B2B (short for "Business 2 Business") marketing, medical care marketing and spine marketing. Companies that concentrate on the orthopedic universe frequently team up with the Runner staff. Identity branding is yet another significant aspect of the Runner marketing approach. The professionals at Runner comprehend all the components that are part of interacting with consumers.
For more details about the winners for this month, visit http://www.10bestdesign.com.