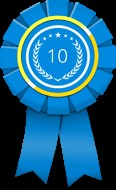 NEW YORK (PRWEB) April 23, 2019
10 Best Design is excited to announce the award winners in its Best eCommerce Web Design Firm category for April 2019, placing Ruckus Marketing at the top of the list.
It is no longer good enough for most companies to simply offer information about their products and services online. The savvy business owner knows that making it possible for consumers to buy products or pay for services online is essential to their growth strategy and their bottom line. Consumers rarely want to go into a physical location or pick up the phone and make a call-in order to purchase a product or service. Without the ability to conduct eCommerce, a company could find itself facing a lot of competition and a big hurdle to its sales. One way to overcome this is to choose the best eCommerce web design firm. Such a firm can update a site so that consumers can order products and pay for them online. ECommerce also works for service provider websites. Here is a look at this month's list of the top performers for eCommerce web design services.
Topping the list of best eCommerce web design firms is Ruckus Marketing agency. This firm earned the number one spot on the list of the 10 best eCommerce providers for April 2019. It offers eCommerce site designs with smart shopping carts that inspire confidence.
Also on this month's list is Blue Fountain Media, a top eCommerce web design agency headquartered in New York City. The firm's larger size means that it can take on complex projects and get them done on time. The firm's eCommerce designs inspire the trust of consumers.
Another one of this month's best eCommerce web design firms is Use All Five. Located in Los Angeles, this is a small firm of fewer than 50 web design specialists. The small size of the firm means that clients get a personalized experience. Each project is given detailed attention. Use All Five can code an eCommerce site on any platform and optimize it to the mobile environment.
The full monthly list includes the 10 best options, so be sure to review it every month. This listing of the top eCommerce web design firm is a new monthly awards category implemented by the 10 Best Design listing service, and the companies on it will change on a monthly basis. Companies that have not made the update to eCommerce yet should review this list often. Take action and make use of this list's free information.
For more information, visit http://www.10bestdesign.com.