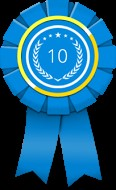 NEW YORK (PRWEB) March 26, 2019
10 Best Design has published its list of the 10 best eCommerce web design firms, featuring Ruckus Marketing and Blue Fountain Media in first and second place, respectively.
This monthly award has been determined by 10 Best Design, a company dedicated to finding out which design firms are the best in their areas of expertise. eCommerce websites require special handling from web development companies for security reasons and creating a payment portal that gains the trust of the customers, rather than losing them. Online stores require advanced website design to create a vehicle of commerce. To determine the best eCommerce web development company, 10 Best Design used a complex ranking process that uses qualitative and quantitative statistics. Their teams review the firms to determine the best service, and they only rank the highly regarded firms.
The top eCommerce web design firm is Ruckus Marketing. The digital agency is more than just an agency. They focus on helping businesses develop inspiring brands and companies whether they are brand new or looking to evolve the brand. They create disruption for many different markets. The New York agency creates disruption that will engage the audience. Creating a design that moves people stems from better platform design and engagement. They campaigns are driven to create consumer action rather than sounding like every other company out there. Ruckus believes branding should have life to it. Messages and imaging need to be distinct for each business. Each phase helps the brand evolve while it is infused with knowledge about how it will impact consumer behavior.
The second-place winner among the best eCommerce website design firms is Blue Fountain Media. The digital design firm focuses on combining technology and imagination to help businesses grow in the increasingly-crowded digital space. Their website design is perfect for mid-sized companies and enterprises. They believe that digital marketing shouldn't just copy the competitors or sound like a robot wrote it. The marketing needs to be designed to reach the needs of the prospect. They also use website development to create bold new websites for companies. Proper website development requires experience, planning, and communication. Blue Fountain Media exceeds in all of these areas. The right partner in designing a website needs to identify their client's needs and clear communication.
To learn more about this month's winning firms, visit http://www.10bestdesign.com.