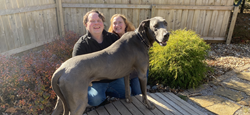 We are looking forward to sharing our knowledge about the pet food industry, talking to people about what makes our products different – the freshness and the quality – and building a community. - Becca Van Beek
LEE'S SUMMIT, Mo. (PRWEB) March 17, 2021
Best friends and long-time colleagues Becca Van Beek and Benjamin Ledbetter are pleased to announce the launch of their mobile-based pet food and supplies company, Pet Wants Lee's Summit.
Pet Wants' specially-crafted, private-label pet food formulas are made in small batches with fresh, natural ingredients enhanced with vitamins and minerals for a complete and balanced diet in every bowl, all made in the USA. Pet Wants Lee's Summit has multiple blends of dog and cat food formulas as well as healing salve, calming balm, anti-itch spray, paw wax and more. This new mobile pet food and supplies company will offer free, personal delivery in Lee's Summit, Raymore, Belton, Pleasant Hill, Independence, Blue Springs and the surrounding areas.
"As people grow increasingly aware of their own diets and what's in the food they are eating, it's only natural to start thinking about our pets too. We are looking forward to sharing our knowledge about the pet food industry, talking to people about what makes our products different – the freshness and the quality – and building a community," Van Beek said. "We are passionate about animals and their care."
Pet Wants has a money-back guarantee on the freshness and quality of the food and the company only sources the best salmon, chicken, lamb, brown rice and other ingredients available. There's no sugar added, no fillers and no animal by-products and Pet Wants never uses corn, wheat, soy or dyes, which makes the food great for animals with allergies.
Van Beek and Ledbetter – who have a 4-year-old Great Dane named Goose – started working together at Barnes & Noble near their Kansas hometowns. When their location closed, the two best friends decided to "take the show on the road" and move to South Carolina. Van Beek has a background with animals, having worked in kennels, as a veterinarian technician and, for the last 18 years, in the zoological field. Ledbetter is experienced in customer service and has a passion for mentoring.
"Most recently we were living in Portland and we were both facing layoffs because of COVID-19. We were thinking about getting closer to home, so we decided it was time to start a new adventure. There are a lot of great pet-focused companies and boutiques in Portland, which is what inspired us to look into Pet Wants. We're thrilled to be opening Pet Wants Lee's Summit and to be serving our community members and their pets," Ledbetter said.
To learn more about Pet Wants Lee's Summit, call 816-808-6025, email RVanBeek@PetWants.com or visit http://www.PetWants.com/LeesSummit.