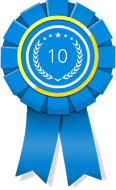 HOUSTON (PRWEB) October 31, 2018
10 Best Design recently selected the winners of its Best Houston Web Design Firm awards for October 2018. The top-ranking contender for this monthly award is Chai One.
Locating the top Houston website development agency could make a big difference in how many site visits and conversions a business is able to achieve. A well-designed site also makes a considerable impact on the way that consumers perceive the company. When a site is easy to navigate, has fonts and colors that are easy to read and information is located in a convenient place, people are more likely to stay for a while and explore. They are also more likely to have a positive perception of the company and want to do business with it. As a way to help firms find the best web design firm in Houston, the 10 Best Design service has implemented a new monthly awards category. This category honors companies with offices in Houston that deliver exemplary results for site design services.
The first-place Houston website development business for October 2018 is Chai One, a leading web design firm with a stellar reputation. The agency's developers have also earned a 96 percent customer satisfaction rating. One of their areas of expertise is in SEO. They can set up a site using enterprise or another platform and work SEO into its architecture. This process results in a site that attains a high SERP on all of the search engines commonly used by consumers doing organic searches.
The second-place firm for Houston website design companies in October 2018 is Culture Pilots. The team at Culture Pilots numbers between 10 and 50 full-time website developers. The firm has attained a customer satisfaction rating of 96 percent. Along with being a top web design firm, Culture Pilots specializes in responsive site design services. They fully test every feature and image on a site in order to ensure that it will display well and function properly on all sizes of screens and operating systems.
Coming in third-place in October 2018 among the top Houston Website development agencies is Zulu Creative. This firm has a 95 percent customer satisfaction rating. The company is known for its top-notch work in eCommerce setups. Their work enables consumers to feel confident and secure when placing an order from their sites. The checkout process goes smoothly, and their sites are set up to remind customers to finish the transaction if they abandon a cart with items in it. The firm has fewer than 10 full-time programmers.
For more details about the award-winning companies for October, please visit http://www.10bestdesign.com.