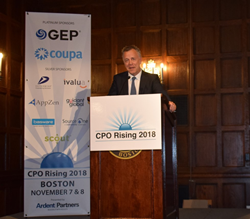 The CPO Honors were established to celebrate the procurement function and recognize the accomplishments of the profession's top leaders and teams. These awards have quickly become the procurement industry's most prestigious series of awards.
BOSTON (PRWEB) November 16, 2018
Ardent Partners, a leading analyst firm focused on supply management, presented five "CPO Honors" awards at its annual CPO Rising Summit held in Boston last week, including one new inductee into its Hall of Fame. The Chief Procurement Officer (or "CPO") Honors were established to celebrate the procurement function and recognize the accomplishments of the profession's top leaders and teams. These awards have quickly become the procurement industry's most prestigious series of awards.
Scott Singer, a globally-renowned business executive and former Chief Procurement Officer at Rio Tinto and United Technologies was inducted into the CPO Rising Hall of Fame as the sole member of the Class of 2018. Mr. Singer was honored based upon a career spent leading large, global procurement organizations. Mr. Singer was an early technology and cloud evangelist and one of the first major CPOs to advance his career beyond procurement, becoming both the CIO and Head of Global Business Services at Rio Tinto. "It is an honor to be recognized by what I consider to be a premier research and advisory firm like Ardent Partners," said Scott Singer. "I value my relationship with Ardent's analyst team and I am thrilled to join such a prestigious list of CPO Rising Hall of Famers."
During the CPO Honors Gala, awards were presented in four major categories, including:

Chief Procurement Officer of the Year: For her efforts in increasing spend under management by $100 million and leveraging technology to redesign Harvard University's source-to-pay process, Sarah Malconian was awarded the "CPO of the Year" distinction. "I am incredibly excited to be honored as CPO of the Year," said Malconian. "This award is a testament to the Harvard Strategic Procurement team's dedication and commitment to providing the highest level of service to our stakeholders. The team's commitment to functional transformation and adoption of enabling technologies to increase our overall spend visibility has allowed us to provide measurable impact aligned with the mission and goals of the University."
Best Team Performance: The procurement team at Watermark Retirement Communities demonstrated its ability to drive business agility within the procurement operation and across the enterprise, and was awarded for their successful efforts. "Considering the high level of the organizations participating in the CPO Rising 2018 Summit, winning the Best Team Performance Award is an honor and a truly proud moment for Watermark," said Amee Foss, National Director of Procurement and Plant Operations. "This prestigious award is a testament to the continuous dedication, commitment, and hard work by everyone across the company to create a positive impact on the quality of lives of our residents. We also thank our technology partner, Determine, for helping us achieve the process agility that enables our team to continuously improve service delivery."
Innovator of the Year: Dennis Silva, CPO of BCNET, received the "Innovator of the Year" award for helping unlock new opportunities for his company by fostering engagement among supply management professionals, institutional leaders, and their suppliers. "It was a tremendous pleasure to attend the CPO Rising Summit 2018 event. For procurement leaders, the opportunity to network and connect with CPOs from organizations represented at this conference is a great investment of time," said Silva. "The summit was also inspirational; as a CPO, listening to the speakers and talking to the attendees, it reaffirmed that our profession can make a significant impact to our organizations. Thank you to Ardent Partners and the panel for the opportunity to be considered for this award."
Technology Excellence: The procurement team at Brighthouse Financial was honored with the "Technology Excellence" award for its achievements driven by procurement automation initiatives across the full scope of procurement operations, including dramatic reductions in the requisition-to-purchase order cycle time and delivering a unified source-to-pay experience to the larger enterprise.
"The procurement profession continues to advance and thrive because of new and innovative strategies and technologies, like those on display at the CPO Rising 2018 Summit," says Andrew Bartolini, founder and chief research officer at Ardent Partners. "We are thrilled, once again, to honor an amazing group of Best-in-Class procurement leaders at this year's CPO Honors Gala."
The CPO Rising 2018 Summit was sponsored by Coupa, GEP, Determine, iValua, AppZen, Guidant Global, Basware, Source One, and ScoutRFP. For more information on the CPO Rising 2018 Summit, please visit http://www.events.cporising.com. Details about the CPO Honors can be found at http://www.cpohonors.com.
About Ardent Partners
Ardent Partners is a leading research and advisory firm focused on defining and advancing the supply management strategies, processes, and technologies that drive business value and accelerate organizational transformation within the enterprise. Ardent's analysts have decades of experience publishing primary research that help business leaders in procurement, supply management, and financial operations make smarter technology decisions and improve their performance. Ardent hosts its annual CPO Rising Summit in Boston each fall. To learn more about the company, visit http://www.ardentpartners.com and http://www.cporising.com.