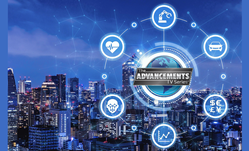 "We are dedicated to bringing information like this to light, and to helping spread the word about such evolving technologies as these..."
JUPITER, Fla. (PRWEB) February 19, 2019
The award-winning producers of Advancements with Ted Danson announced today that a new episode, scheduled to broadcast on Sunday, February 24, 2018 at 3:30p ET, will focus on the ever-evolving world of the blockchain. Tune in to CNBC and check your local listings for more information on this program.
With a look at how the Fr8 Network is building the rules, standards, and format for communication in logistics, Advancements will educate audiences about the logistics and supply chain industries and will explore how they have benefitted from embracing innovation and technology. Viewers will discover how Fr8 is providing greater visibility into shipments, is producing an immutable record of the regulatory requirements, and is delivering expedient settlement for all parties.
Next, the show will focus on HybridLab®, a company concentrated on creating better training solutions for healthcare professionals worldwide. Onlookers will learn what makes HybridLab®'s solutions easier to access and more convenient to provide. It will also highlight HybridLab®'s specifically designed algorithms that can be used with any training equipment and will show how instructors are able to monitor and evaluate students' performance from a distance, at any time while students train in the HybridLab® classroom.
Started by and for scientists and inventors with the aim of using distributed ledger technology (DLT, also known as Blockchain technology) for the protection of intellectual property (IP), Vaultitude replaces and complements traditional intellectual property strategies by offering proof of authorship via the safest form of digital publication, as well as a safe way to share and transfer confidential information and IP rights. Advancements will illustrate how the decentralized Blockchain technology-backed Vaultitude database protects the interest of users and establishes authorship beyond all doubt.
To close, the show will explore how EdenChain is using the blockchain to capitalize and trade all types of assets through programmable economy technology. Spectators will see how EdenChain uses smart contracts to integrate real and virtual economies, creating a fundamentally new programmable economy platform.
"Being focused on technology and innovation, the series is excited to explore topics that hit so close to home. We are dedicated to bringing information like this to light, and to helping spread the word about such evolving technologies as these," said creative director, Sarah McBrayer.
About Advancements and DMG Productions:
The Advancements television series is an information-based educational program, targeting recent advances across a number of industries and economies. Featuring state-of-the-art solutions and important issues facing today's consumers and business professionals, Advancements focuses on cutting-edge developments, and brings this information to the public with the vision to enlighten about how technology and innovation continue to transform our world.
Backed by experts in various fields, and a team dedicated to education and advancement, DMG Productions consistently produces commercial-free, educational programming on which both viewers and networks depend.
For more information visit AdvancementsTV.com or call Michael Devine at (866) 496-4065.