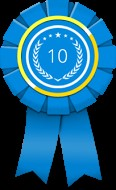 LOS ANGELES (PRWEB) March 29, 2019
10 Best Design is pleased to reveal its list of the best L.A. website development businesses, with Spinx Digital leading the pack.
This award is important because choosing the best web design firm is not easy. There are so many, and it is easy to be overwhelmed with all of the choices. Each month, 10 Best Design makes a new list of the top performers in this area of expertise. It is available at no cost, and it provides key details about the top 10 firms in this area of expertise. This list of firms is specific to the Los Angeles area. This is a new monthly award, and business owners, nonprofit managers and individuals in the Los Angeles area who are searching for the best LA website development business should refer to it in order to choose a web designer who will fulfill all of their expectations.
Heading the top performers on the list of the best LA website development businesses is Spinx Digital. While it is a smaller firm with fewer than 50 full time web design and marketing experts, it is able to make a big impact on the profitability and visibility of its clients. Spinx Digital has earned the top spot on the list of the 10 best because of its ability to build responsive sites that have a clean layout.
Eight25Media also rates in the top 10 of Los Angeles web design firms. As a leading web design firm, Eight25Media, is known for its expertise in the area of eCommerce setups. They recognize that all of the small businesses in and around Los Angeles need to be competitive, and they are able to create secure platforms that consumers trust when entering their personal and confidential financial information. This firm can also include SEO into its site design, which ensures that the site is able to earn a high Google ranking as soon as it goes live.
Blue Fountain Media also earned a spot on this month's 10 best list for web design firms in Los Angeles. This firm is known for designing responsive sites. Being a top web design firm, Blue Fountain Media can create sites that are specific to different niches or industries, including medical, dental, veterinary and other sites. They work to ensure that the sites they build are responsive to all platforms and devices. The sites they create are ADA-compliant for high accessibility. Blue Fountain Media has a 98-percent customer satisfaction rating.
To learn more details about this month's winning agencies, visit http://www.10bestdesign.com.