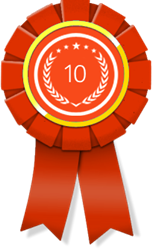 CHICAGO, Ill. (PRWEB) June 24, 2019
10 Best SEO recently selected the winners of its Best Local SEO Agency awards for June 2019. Top winners for this month include Straight North, Ignite Visibility and Boostability.
Local SEO is critical in the marketplace. A small company that focuses on the delivery of services or consumable products likely needs to have a great local search engine optimization (SEO) setup in place if it is going to reach the people who are most likely to need or want to use their products or services. Finding the best local SEO agency is often a challenge. The right firm will research the neighborhood names and other local labels that consumers use when conducting their searches. SEO should also be optimized for the people who prefer to do a Google voice search on their smartphones. In order to help businesses in need of local SEO, the 10 Best SEO team has set up an award in order to recognize the top category performers.
Located in Chicago, Straight North is the June 2019 winner for best local SEO businesses. Straight North works with small businesses and franchises in order to set them up with quality local SEO campaigns. They assist niche businesses as well as those that offer a bigger variety of products or services. Straight North excels at research.
Boostability is top local SEO agency located in Lehi. With more than 250 SEO and marketing specialists on their staff, Boostability is always ready to take on a big local SEO project. They do work for companies that operate franchises and chains in multiple regions or cities. They can optimize the individual pages so that people looking for that service or product in their area will find the location's page at the top of the search engine results.
Headquartered in San Francisco, Ignite Visibility is leading local SEO firm that does a great job at helping small businesses boost their marketing. They use local monikers in the headers, which makes the search engine crawlers take notice and deliver a better SERP. Ignite Visibility typically delivers multiple first page SERPs through their well-researched local SEO campaigns. The results is more sales both online and at brick-and-mortar locations.
Choosing the best local SEO business is less complicated when following this complementary list by 10 Best SEO. Any business that might need local SEO services in the future should return to this list. This brand-new awards category will be updated every month. For more details about the winning firms for the month of June, visit http://www.10bestseo.com.