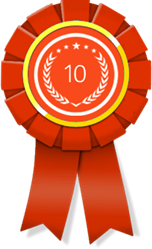 LOS ANGELES (PRWEB) June 26, 2019
10 Best SEO is excited to announce the award winners in its Best Los Angeles SEO Agency awards for June 2019, naming Directive Consulting as the top honoree.
Finding the right company to research the trending keywords and long-tailed phrases used by people conducting organic searches is not an easy task. There are a lot of independent individuals and contractors who offer the service. There are also a lot of companies out there, and most of them will claim that they are experts or excel at this service. Sorting out the good ones is challenging, which is why the 10 Best SEO service has created a monthly award for the best LA SEO agency. Any company looking for local SEO services in the Los Angeles area can choose a firm from this list of the best SEO agency options in order to make quick work of the task.
Located in Orange County outside of Los Angeles, Directive Consulting topped this month's list of best LA SEO agencies. The firm has attained this high rating because it works to ensure total customer satisfaction with the site's overall ranking and the ranking of different pages on the site.
The 180fusion is a top SEO firm that helps companies improve their chance of achieving a first-page ranking on search engines. They implement the ideal ratio of keywords and phrases. The staff of 180fusion pays special attention to places that are often overlooked, including the page URL, image tags and headers on each page. This helps the site get rated better when the crawlers visit their pages. The firm is headquartered within Los Angeles.
Leading SEO agency Websites Depot is headquartered in Los Angeles and has a staff of fewer than 50. However, it is able to make a big impact on how much traffic the sites of its clients are able to receive. Websites Depot delivers a high customer satisfaction level because of its ongoing updates that ensure a site will maintain a first-page results on the different search engines. The firm's staff takes pride in helping clients meet their conversion goals.
This is a new monthly award issued by the 10 Best SEO listing service. Each month, the key attributes of all companies offering this service are re-evaluated. Companies still in search of the right SEO provider should plan to return in order to take a look at each month's top performers in this area of expertise.
For more information about the award winners for the month of June, visit http://www.10bestseo.com.