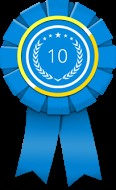 NEW YORK (PRWEB) June 25, 2019
A new monthly award from 10 Best Design has been announced for June for the Best New York Web Design Agency. Ruckus Marketing, Blue Fountain Media and Lounge Lizard met 10 Best Design's strict standards for quality and received gold, silver and bronze awards for New York web design firms.
The award showcases the firms that are headquartered in New York and excel at developing websites. These Best Web Design Firm winners develop sites to help their clients reach their goals, including e-commerce, brochure, business and nonprofit websites. A website is a visitor's first impression of a company; it has to have a great visual design. People stay longer on sites which are visually appealing as long as the website is also easy to use.
Ruckus Marketing, the best web design agency for June, builds disruptive websites that get noticed. Visitor interaction increases with Ruckus' responsive websites with well-thought-out UX/UI designs. These websites have a natural flow, effortlessly guiding the visitor to the call to action. 10 Best Design recognizes Ruckus Marketing for their commitment to client success.
Top web design firm Blue Fountain Media delivers websites that use storytelling to support a client's business goals for their brand and drive conversions. Human beings connect using stories and every element on a website developed by Blue Fountain Media, even the icons, supports the story. Using multimedia content, Blue Fountain Media helps clients express their brand's personality in a way which encourages customer loyalty.
As one of the best New York web design agencies, Lounge Lizard develops contemporary custom websites using WordPress and other platforms. The agency prefers collaborative processes where they uncover a brand's story and then make sure it is engaging for visitors. E-commerce websites built by Lounge Lizard use Shopify, an all-in-one platform and feature managed hosting and 24/7 support.
Only the best New York web design and development firms earn 10 Best Design's new awards. 10 Best Design consists of developers, web designers and marketing professionals who research web design agencies thoroughly before recommending them. Organizations needing a website can't go wrong with any of the web design firm 10 Best Design recognizes in their various award categories. To learn more about this month's award winners, visit http://www.10bestdesign.com.