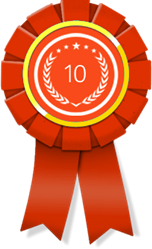 NEW YORK (PRWEB) September 09, 2019
Recently, 10 Best SEO chose the winners of its Best NYC Agency awards for August 2019, honoring Straight North with the first-place prize. Additional award winners were also recognized.
Organizations looking for the best SEO agency to help them rank higher in the search results will find any of the 10 Best SEO award winner are certain to meet their expectations. To find the best New York City offers, 10 Best SEO publishes a new list of award-winning SEO agencies monthly.
Straight North is one of the best SEO agencies because it offers effective SEO campaigns which bring results quickly since the NYC SEO firm has a full-time, in-house team dedicated to tasks such as keyword research and link building. They offer local and national SEO, in addition to e-commerce SEO. No product catalog is too big for Straight North to handle since they also offer SEO services for enterprise-level websites with 1,000 or more pages. Clients find the company transparent about what they do, and they explain their SEO strategy in plain English. Straight North also offers Google penalty recovery services to businesses suffering from a devastating drop in traffic.
Leading SEO agency SEO Brand offers clients a personalized SEO team to meet their unique needs. They provide both on-site and off-site SEO. Companies can count on SEO brand to take the latest ranking factors into account. The NYC SEO firm can improve their client's website load speed, ensure the site is mobile friendly and disavow low quality links. SEO Brand's tactics help clients get more qualified traffic and since they also include strong calls-to-action, more visitors convert. They also offer digital marketing, web design and branding services.
Top NYC SEO firm Elite SEM also made the winner's list for August. Elite SEM uses Google's best practices to make clients more visible in the search results. They create optimized content to show search engines that the website is relevant for popular search queries in the client's niche. The New York City SEO firm also optimizes blogs and aligns a client's SEO campaign with their social media channels. They use a wide range of paid SEO software for competitive insights, keyword rank tracking, backlink analysis and more. Elite SEM also focuses on specialized SEO services, including SEO for e-commerce sites, migrations and lead generation.
These are only three examples of the Top NYC SEO Firm award winners that 10 Best SEO selected as the top-performing SEO companies in NYC for their new monthly awards. To learn more about the August award winners, please visit http://www.10bestseo.com.