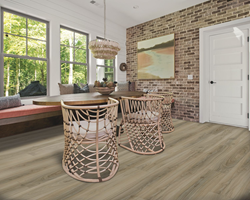 DALLAS (PRWEB) August 02, 2020
https://peekscarpet.com/best-of-karastan-sale/
Celebrating the debut of LuxeCraft luxury vinyl plank (LVP) tiles, Peek's Floor Company is announcing a discount on all Karastan products. The Best of Karastan summer sales event continues until September 1st.
"Karastan, our long-time preferred vendor, has honored us by making Peek's one of the premier retailers for their remarkable luxury vinyl plank," said Rachel Stacy, Peeks Floor Co. president. "We are proud to be one of the first companies in Dallas to promote Luxecraft and the new hard surface product line."
For almost 100 years, Karastan has been known for luxury carpets and rugs. The company has kept the same dedication to their quality product in the development of their LVP line. Luxecraft provides beautiful choices that look like wood and stone combined with the many practical qualities of durable vinyl tile.
The quality can be seen especially in the wear layers of the product. Typical vinyl tile has only eight or twelve layers, whereas LuxeCraft has 20 wear layers. The thickness means the beauty will last longer and the product will wear better than typical vinyl products.
"At Peek Flooring Company, we are excited to offer our customers an even better deal than usual on Karastan products," said Stacy. "With so many Texans on a summer staycation, it is a great time to improve your home with luxury flooring products for an affordable price."
Ensuring that Karastan floors are laid correctly, Peek's provides professional installation. "We have an everyday low price for our installation," said Stacy. "Our installers follow the state and federal COVID 19 health guidelines, regarding masks and gloves."
The Best of Karastan sale featuring Luxecraft will last until September 1st at Peek's. The entire Luxecraft line is available at any Peek's location, including Dallas, Flower Mound, Frisco, Grapevine and Richardson. Each store is open daily for business, Monday through Friday, from 10 a.m. to 5 p.m. Saturday hours are 10 a.m. to 3 p.m.
__title__ LuxeCraft Makes Dallas Debut at Peek's Floor Co]