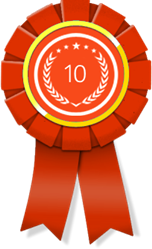 SAN DIEGO, Calif. (PRWEB) December 31, 2018
Awards organization 10 Best SEO recently recognized Ignite Visibility, Directive Consulting and Comrade as three of the Best PPC SEO Agencies in the country.
Southern California's Ignite Visibility finished in first place on this month's list of best PPC SEO agencies, earning a rating of 98%. Best PPC agency Directive Consulting of Orange County, California, won December's silver medal with a 95-percent rating. Comrade, a best PPC agency with fewer workers than the other competitors, takes December 2018's bronze medal home to the Windy City.
The December rankings are important because navigating the pay-per-click market isn't easy, especially for beginners. Novices—even intermediate-level pay-per-click advertisers—often pay too much for people to click on their ads. Further, even if they do pay competitively for PPC bids, their landing pages might not be optimized for customer engagement.
However, 10 Best Design's monthly awards list helps companies choose the best PPC advertisers in the English-speaking world.
Online advertising has been more popular than its traditional counterpart for several years now. Companies, organizations, and individuals are turning away from placing advertisements in magazines, newspapers, phone books, television shows, and on park benches in favor of digital ads for many reasons. For example, digital advertisements can be readily tailored to desired audiences. The Internet's largest advertisers, including Facebook and Google, provide their clients with vast insight about users of their respective platforms, helping businesses determine what strategies to employ in reaching out to web users.
Companies that fail to advertise heavily on the World Wide Web will lose brand and customer awareness. Overcoming gaps of awareness is difficult, though maintaining advantages in long-term levels of awareness over competitors is as simple as pouring more money into advertising via the Internet.
As far as traditional advertisements are concerned, they are paid for by either a variable cost per character used or a fixed cost per day advertised. There are a few ways of paying for digital advertisements, including cost per mille (CPM) pricing bills advertisers for every 1,000 times an ad is seen. Cost per click (CPC) involves advertisers bidding on how much they will pay for web users to actually click through to advertisers' web pages. Cost per engagement (CPE) charges advertisers based on how many times ads were clicked or viewed for extended periods of time. Cost per view (CPV) is commonly used in video advertising and is self-explanatory. And cost per install (CPI) also speaks for itself but is almost exclusively used for mobile apps. This makes digital advertising more flexible in terms of its methods for payments.
For more information about this month's Best PPC SEO Agency winners, visit http://www.10bestseo.com.