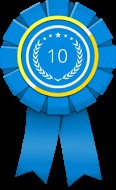 NEW YORK (PRWEB) January 28, 2019
10 Best Design is pleased to announce the winners of its Best Responsive Design Firm awards for January 2019, giving Ruckus Marketing the top honor.
This award is significant, given the growing importance of responsive design. In today's world, responsive website designs are conducive to doing good business. Responsive designs are those that automatically change their layout based on the screen resolution that visitors are browsing with.
For example, smartphones are used to browse the Internet as often as computers are. Laptops and desktops have more screen space than their handheld counterparts. Visitors are likely to not revisit websites that fail to adapt to their screen size. This is why responsive website designs are so important in today's world of doing business.
In addition, the world of technology regularly changes. As time passes, tech companies, devices, and software evolve more rapidly than before. Web design firms are no exception to the aforementioned rule of thumb. Because web design firms fade in and out of relevancy more quickly than service providers in other industries, potential clients of these firms consistently struggle in securing top-notch responsive websites from them.
Consequently, 10 Best Design issues a well-researched list of the best responsive web design firms every month. This list is new. To prove this point, just one of the 10 firms on 10 Best Design's December 2012 list of the 10 Best Web Design Firms was to be found on any of 2018's lists. Without help from 10 Best Design, potential clients of web design firms wouldn't know where to reliably turn to for reviews of their recent services. Here is a summary of the top winners for January 2019.
Ruckus Marketing of New York City, New York is the most expensive of January 2019's top responsive web development agencies, though its 99-percent rating justifies its hourly rate. Blue Fountain Media, also of the Big Apple, finished just behind Ruckus Marketing at a rating of 98 percent this month.
Another best responsive web design firm, Blue Fountain Media has an hourly rate that is the lowest of this month's top three finishers. This month's third contender for the best responsive web design agency is SPINX Digital of Los Angeles.
For more information about this month's award winners, visit http://www.10bestdesign.com.