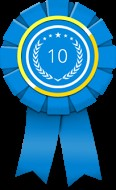 NEW YORK (PRWEB) June 21, 2019
10 Best Design has selected the winners of its best responsive web design firm awards for June 2019, bestowing the top honor on Ruckus Marketing. This new monthly award recognizes the best online marketers in the industry. Particularly, 10 Best Design highlights the top-performing firms that have excelled in the field of responsive web design.
In the current era, mobile internet users outnumber their desktop counterparts. Still, to succeed, businesses and other organizations must connect with every user. However, developing a separate website for every screen size can cost more than most businesses can afford. Responsive web design exists for this reason.
Responsive web designs use HTML and CSS code to display and function properly on every device, regardless of screen size. This type of work does not come naturally. In other words, not every developer can successfully create websites in this way.
For the month of June, Ruckus Marketing is the top responsive web design firm. The company has worked miracles for game-changing brands and global influencers. Ruckus has built a fantastic team of creative and technical professionals that excel at creating unique designs that help clients stand out from the crowd.
Ruckus Marketing also provides other digital marketing services. For instance, they have branding experts who can create a winning identity for their clients. The firm also has in-house development teams that can create award-winning apps for mobile devices and the web. Businesses can also trust Ruckus to design growth-oriented marketing strategies that leverage media, experiential, and digital marketing channels.
10 Best Design placed Blue Fountain media in the number two position among this month's best responsive website development agencies. The silver-trophy winner has become known for its ability to merge imagination and technology to create digital transformations. Ultimately, the capabilities of Blue Fountain Media are clear. One look at the firm's client portfolio testifies to its ability to support distinctive online brands.
With so much competition, 10 Best Design has a tough job when determining the top performers in the responsive design industry. So, SPINX Digital takes the number three position this month. SPINX Digital is a top responsive web design firm, in part, because of its practice of hiring creative people who have big ideas.
10 Best Design continuously assesses responsive web design firms. The ratings they provide can help businesses find the digital marketing firm to help them succeed. For more information about this month's award winners, visit http://www.10bestdesign.com.