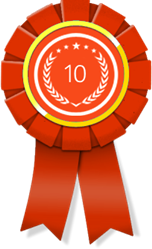 SAN FRANCISCO, Calif. (PRWEB) June 27, 2019
10 Best SEO is honored to present the winners of its Best San Francisco SEO Agency awards for June 2019, selecting Victorious SEO as the leader in this category.
Small business owners and individuals or entrepreneurs often want to work with a local web design and marketing service. This allows them to get a more personalized approach to their site designs and ads. Small companies also have to work with small marketing budgets, and being able to go over the details in person helps with prioritizing and making the biggest possible impact. In order to facilitate online marketing through SEO, the 10 Best SEO has set up an awards category for the best SEO agency.
For June 2019, Victorious SEO is the number one provider among the best San Francisco SEO firms. Victorious SEO has earned this ranking through its efforts in researching trending key phrases that regular people use when they want to find a product or service in the Bay Area. As a small firm with up to 50 full-time members, Victorious SEO is able to offer customized SEO that attracts positive attention from search engine crawlers. They pay close attention to headers and image tags, which are typically prioritized over the content by the search algorithms.
SevenAtoms is a leading SEO firm that works with small niche businesses. They specialize in local SEO services that help small companies compete with bigger businesses that might offer the same products or services. The SEO set in place by SevenAtoms helps a small business differentiate itself from those large competitors. The result is more visibility and name recognition, which gives the small business a chance to grow its sales even with a small marketing budget.
Top SEO agency Elite SEM is a medium- to large-size advertising firm that maintains a staff of up to 250 marketing and design specialists. Elite SEM specializes in search engine marketing services, which is reflected in their SEO. They create ads that display on search engine results pages. These ads use well-researched long-tailed key phrases in order to boost the conversion rate. Their research ensures that the ads consumers see are relevant to their searches.
This award for the best San Francisco SEO firm by the 10 Best SEO listing service is new. Company owners and other interested parties should spend a few minutes returning each month in order to see which companies have earned a spot on this list.
For more details about the winning firms for the month of June, visit http://www.10bestseo.com.