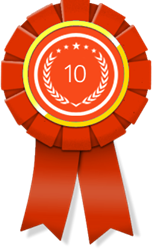 SAN FRANCISCO (PRWEB) April 25, 2019
10 Best SEO is honored to present the winners of its Best San Francisco SEO Agency awards for April 2019, selecting Seven Atoms as the leader in this category.
Choosing the best search engine optimization (SEO) firm is part of a business plan for success. The best SEO agency will provide a business with online traffic growth and a better conversion rate from visitors into paying customers. There are many types of SEO that a business owner might consider, and finding the right firm to take on this type of marketing campaign is not generally a fast or simple process. Fortunately, the 10 Best SEO listing service has come up with its brand-new monthly award for the top SF SEO agency. Business owners in and around San Francisco can make use of this monthly list if they notice that their site is not performing at the standard that they want it to perform.
Heading the list of top SF SEO agencies for April 2019 is Seven Atoms. This is a small firm with fewer than 10 employees. Business owners get a customized experience when they choose to work with the company. The firm's associates deliver impeccable customer care. They specialize in working with small businesses and take pride in helping their clients succeed and reach their highest goals.
Another great firm for San Francisco SEO services is Elite SEM. This firm specializes in search engine marketing and uses the trending key phrases to create ads that are prominently displayed on a search results page. Being a top SEO agency, Elite SEM also works to boost the SERPs of its clients. The result is more visibility and a higher level of niche authority. This leads to more trust from consumers.
Ensight Marketing also earned a spot on the April 2019 list of the 10 best SEO agencies. As a leading SEO agency, Ensight Marketing employs more than 250 marketing experts who are adept at researching site performance and conducting trend analyses. The associates at Ensight Marketing use this data in order to build their SEO campaigns. They offer tweaks whenever the search engine algorithms change the SERPs for their clients.
This is a brand-new award for the best SEO company in San Francisco. It is available at no cost to business owners and individuals. Businesses should refer to it around the first date of each month, because the companies that are listed on it could change as new information is analyzed.
Please visit http://www.10bestseo.com for more information about the winning agencies for the month of April.