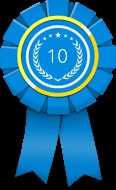 SAN FRANCISCO (PRWEB) December 27, 2018
10 Best Design has announced the most recent winners of its Best Web Design Firm awards for the San Francisco Bay Area, honoring EIGHT25MEDIA, KNI and Fluid. To claim a spot as a top San Francisco web design firm a company must achieve excellence in multiple categories.
These awards are given by 10 Best Design to honor the top web design firms that are based in or near San Francisco. Each month web design firms are honored with these prestigious awards in an effort to spotlight companies that go above and beyond in their efforts to serve clients in many sectors.
This month's list of top San Francisco Web design firms includes Eight25Media. This firm has built more than 500 websites and is a certified Google Partner. The services provided by this full-service firm include mobile web design, UI design, and marketing to help clients reach a target audience.
Also highlighted on the list of award recipients is leading web design firm KNI. Kurt Noble, Inc. has established itself as one of the premier web design firms in San Francisco by providing superior design and excellent customer service. This firm is able to design and code advanced websites that create a positive environment for visitor engagement.
Fluid is top web design firm as well as an award-winning agency that specializes in e-commerce website platforms. The company has been designing state-of-the-art websites for over 15 years. The goal at this firm is to bring retailers and customers together with interactive and responsive web design. Fluid employs a large team of talented professionals in all areas of web development.
This new monthly award from 10 Best Design was created to recognize excellence across the entire spectrum of web design. Factors that are considered are web design capabilities, customer service, and client retention. Each firm that is honored has been subjected to a complex selection process.
Those who are seeking web design in the San Francisco area can trust each of the winners of this award to deliver quality service and professionalism. Each firm honored takes great pride in its ability to help clients achieve a unique vision for websites that enhance brand recognition.
For more information about this month's winners, visit http://www.10bestdesign.com.