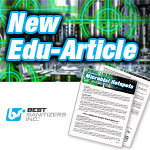 We want to provide food industry professionals with the tools and equipment they need to reduce cross-contamination in their facility
NEVADA CITY, Calif. (PRWEB) September 05, 2019
Most food safety professionals are continually looking for new and better ways to help control the risk of cross-contamination in their facilities. To help them in their efforts, Best Sanitizers, Inc. is releasing a series of educational articles designed to give food processing facilities, nutraceutical, and pharmaceutical plants the upper hand in the fight against cross-contamination. Cross-contamination and the spreading of pathogens can occur from hands, footwear, tools, and other high traffic areas in the plant.
Their latest article focuses on identifying less than obvious microbial hotspots in a food processing facility. The article highlights the importance of identifying areas of the plant that could be missed during cleaning and sanitization procedures. As discussed in the article, the food processing environment is multidimensional, challenging food workers and sanitarians to think outside the box in order to identify their plant's specific trouble areas. Microbes, also known as pathogens, can become established, and even thrive in hidden and hard to reach areas, making it crucial for food processing facilities to identify these areas before they become a real problem.
The complete educational article, Identifying Microbial Hotspots is available for free download.
"Our goal is to promote and educate the industry on best food safety practices," states Ryan Witt, Best Sanitizers' Vice President of Sales and Marketing. "We want to provide food industry professionals with the tools and equipment they need to reduce cross-contamination in their facility."
Best Sanitizers, Inc. has a team of seasoned professionals available to provide guidance, products and solutions designed to assist you in the fight against cross-contamination. From hand hygiene products and programs to footwear cleaning and sanitizing equipment, surface sanitizers, industrial cleaners, and the industry's largest selection of dispensing options, Best Sanitizers, Inc. can help you take your HACCP program to the next level.
For more information on Best Sanitizers, Inc., please visit us at: http://www.bestsanitizers.com.
About Best Sanitizers, Inc:
Since 1995, Best Sanitizers, Inc. has been providing the Food Processing, Janitorial Sanitation and Healthcare industries with the highest quality hand soaps, hand sanitizers, surface sanitizers and dispensing options available. You'll find our products helping processors large and small reduce the risk of pathogens throughout the US. Best Sanitizers was the first company to achieve an E3 rating for an alcohol-based hand sanitizer, and the first to achieve a D2 rating for an alcohol/quat-based surface sanitizer for food contact surfaces. Best Sanitizers continues to explore new and innovative ways to deliver hand hygiene and surface sanitation solutions.