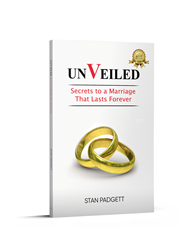 The best advice he's given me over the years is found in this book. A must-read at any age or relationship status. Thank you! -- Selah Shoaf
TAMPA, Fla. (PRWEB) January 29, 2019
Going #1 on Amazon in three categories within hours of launch, Beyond Publishing, CEO, Michael D. Butler says, "the ebook will be available at an introductory price for a limited time and the pre-orders on the print book are off to a great start as well." http://bit.ly/UnVeiledEbook
Many marriages today don't last. In the United States, 40 to 50 percent of first marriages end in divorce, and 60 to 75 percent of second and subsequent marriages end in divorce. Padgett explains, "A forever marriage is intentional. It's deliberate, planned, and worked on daily." Padgett provides readers with the tools they need to work on their marriage to ensure it is a forever marriage.
Some of the topics he addresses include:

Conversations you should have before you say "I do". Padgett discusses the questions couples should ask each other about sex, money, children, and religion before they walk down the aisle.
Don't let your wedding cause your divorce. Many couples get caught in the trap of the American wedding industry and wind up spending all their money or fighting with family, starting the marriage off on the wrong foot.
Planning your marriage. Padgett teaches couples how to set goals for their marriage, health, and finances, as well as how to achieve those goals.
What happens after the honeymoon is over. Many couples have spent a whirlwind year of excitement planning a wedding, having bridal showers, bachelor and bachelorette parties, and being the center of attention. After the honeymoon, all that excitement and attention dies down, leaving many feeling like marriage is a disappointment. Padgett helps cushion the blow.
The first child changes everything. Everything changes for a couple when their first child is born. Padgett offers advice that helps couples protect their marriage and ensure it is as much of a priority as the children are.
Padgett says, "I wrote Unveiled to teach couples how to avoid some of the common mistakes that lead to divorce. This book provides readers with tools they can put to work in their marriages today, to make them lasting, loving and joyful."
Stan Padgett
Stan Padgett was born in Columbia, South Carolina, and grew up in South Carolina, North Carolina, Virginia, Washington, Kentucky, and Alabama. He graduated from Auburn University at Montgomery in 1979, from Duke University School of Law in 1982, and has been a business trial lawyer in Tampa, Florida for 36 years. He and his wife Linda got engaged three months after she turned 16 (he was 17), married at 17 and 18, have been married for 42 years, have three children, lots of grandchildren, and look forward to more grandchildren and great -granddaughter.
"I had a great experience working with Speaking Empire and Beyond Publishing, I've been teaching about marriage and working with couples for more than a decade and knew I needed to get it all into a book. The process from start to finish was incredibly fast and efficient," remarked Stan.
For more information, please visit http://beyondpublishing.net/Author-Stan-Padgett
For more information about Relationship Magic Academy, please visit https://relationshipmagicacademy.com/
Follow Relationship Magic Academy on Instagram @RelationshipMagicAcademy
"Like" Relationship Magic Academy on Facebook at
https://www.facebook.com/RelationshipMagicAcademy
###
For media inquiries, or to request a review copy, please contact:
Michael Butler
michael(at)beyondpublishing.net
323.248.8996