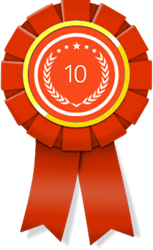 CHICAGO (PRWEB) October 25, 2018
10 Best SEO is honored to present the winners of its Best Social Media Marketing awards for October 2018, selecting Straight North as the leader in this category.
This award is noteworthy because of the significance of SMM in the marketplace. When the owner of a business is in need of a brand-new social media marketing strategy, it pays to find the best SMM agency to handle the campaign. There are a lot of companies that handle social media marketing services, but not all of them have a full spectrum of services or the ability to respond quickly to a company's requests for service. In order to facilitate the selection of the best social media marketing agency, the 10 Best SEO listing service has implemented a new monthly award. This new monthly award honors the top 10 performers in SMM services around the USA.
The top firm that a CEO could choose for SMM services is Straight North. This is another large entity with as many as 250 full-time marketers, web developers and site designers on its staff at any given time. Straight North, which is headquartered in Chicago, is one of the largest top social media marketing agencies in the industry. The firm's staff has earned a 96 percent customer satisfaction rating for its social media marketing services. The firm is noted for its top-notch work in the area of sharing stories from satisfied customers and making it easy for clients to showcase their success stories. Straight North also handles social media reputation management services.
Also on the list of best SMM agencies is Ignite Visibility. This is a small firm of 10 to 50 full-time marketing and development professionals. The company has earned a customer satisfaction rating of 95 percent. Headquartered in San Diego, most of its clients are located on the West Coast. Ignite Visibility works with clients throughout the USA for all of their social media marketing and engagement needs.
Another one of the companies earning a distinction for its SMM services in October of 2018 is Boostability. As a top SMM agency, Boostability is a large firm with more than 250 employees on its full-time staff. The firm is headquartered in Lehi, Utah, but it works with clients located throughout the United States. With a 93 percent customer satisfaction rating, Boostability is able to combine its social media marketing services with other types of marketing, such as pay-per-click ads. They carefully use demographic research in order to show ads in the feeds of users who are most likely to be interested in what their clients have to offer.