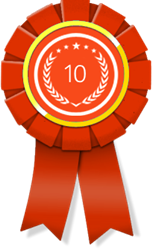 CHICAGO (PRWEB) April 25, 2019
10 Best SEO has chosen the April 2019 winners of its Best Social Media Marketing Agency award, with Straight North named as the industry's premier company.
10 Best SEO is pleased to facilitate awards that provide business owners with a clear understanding of which social media marketing agencies are consistently operating in excellence. Businesses can read the information below to learn more about the winning social media marketing agencies, which are known to offer clients exemplary services and support:
Straight North is a top social media marketing agency that is committed to providing clients with exemplary social media marketing services that really work. As a company whose professionals maintain a holistic outlook, the organization's experts are committed to offering a plethora of services simultaneously. This includes social media optimization techniques that will help the organization grow on key social networks like Twitter, Facebook, Instagram, and more. The Straight North techies are also proud to maintain a client-oriented outlook which ensures that the voice and vision of the business owner always remain integral to the marketing campaign.
Also considered to be one of the top social media marketing companies is Ignite Visibility, which is known for helping small business owners and corporate leaders succeed. Ignite Visibility is a social media marketing agency that empowers business owners to connect with members of their target market in a dynamic, interactive way that generates conversion and customer loyalty. To facilitate these types of business-building interactions between their clients and potential consumers, the Ignite Visibility representatives focus on offering comprehensive services. This ensures that the company leader's organization becomes more visible and relevant across multiple key platforms, some of which may include Facebook, Google+, Instagram, and Twitter.
Boostability is a leading social media marketing company that businesses can trust for excellent services and expedient assistance. With extensive experience in the social media optimization sector and a passion for helping business owners expand their domain of influence via internet, the Boostability representatives excel in offering the diverse, customized array of services necessary to ensure that organizations can move forward with skill and sophistication. One of the big benefits of working with an organization like Boostability is top social media marketing agency that is skilled in promoting brands across a wide range of platforms. This helps ensure that the brand becomes increasingly visible to members of the target audience who would be interested in purchasing products and services from the business owner.
Please visit http://www.10bestseo.com for more details about the winners for the month of April.