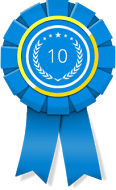 NEW YORK (PRWEB) August 22, 2018
10 Best Design is pleased to announce the winners of its Best Web Design Firm awards for August 2018, with Ruckus Marketing and Blue Fountain Media heading up the list.
Finding the right web design agency to suit a business's needs can be a daunting task. Between design aesthetics, technical skills and customer service responsiveness toward the business and its customers, there are several complicated metrics to consider. To help streamline the process of matching a business with the right design firm, 10 Best Design compiles a monthly Best Web Design Firm list highlighting the top agencies in a competitive industry.
This month's top web design firm is Ruckus Marketing, which is based in New York. Ruckus Marketing is a full-service agency that delicately integrates branding design, digital platform development and strategic marketing campaigns to drive growth. Ruckus constructs intricate, customized, finely-tuned digital platforms that position brands apart from the competition. They create marketing campaigns that effectively communicate brand messaging and values to customers. The innovative firm designs mobile apps and websites with intuitive interfaces to maximize consumer engagement and foster growth.
Also noteworthy among the list of leading website development businesses is Blue Fountain Media. The company is based in New York and has satellite offices in Chicago and Seattle. Blue Fountain Media offers digital marketing, mobile app development, website development, branding and strategy consulting. The digital agency is particularly known for its content management systems. Blue Fountain Media works with businesses to create a custom-designed CMS platform to structure the creation, use, presentation and management of content. The digital marketing firm prides itself on crafting individually tailored comprehensive digital solutions to further customer engagement and brand rejuvenation.
In addition, Los Angeles-based SPINX Digital also ranked among this month's best web design firms. This design agency develops sleek, innovative websites and mobile apps that increase conversion rates and consumer engagement. Being a top web design firm, SPINX customizes each project to optimize visibility and utilize analytics to give clients an edge over the competition. The agency also harnesses the power of enterprise content management systems to streamline digital solutions and connect clients with audiences. SPINX Digital works hard to communicate a client's brand values to its customers and convert customer engagement into increased sales.
For more information about the winners for August 2018, visit http://www.10bestdesign.com