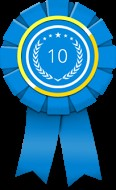 NEW YORK (PRWEB) June 20, 2019
10 Best Design has chosen the recipients of its Best Web Design Firm Awards for June 2019, with Ruckus Marketing and Blue Fountain Media coming out on top.
The award winners are vetted online marketing agencies that have ample industry experience and proven results. These companies have established a long track record for serving business clients with excellence with outstanding combinations of creative design and technical genius.
This month, Ruckus Marketing is honored at the top of the list of best website design agencies. The firm uses a relationship-based business model to deliver unique designs and measurable results to game-changing brands. The firm specializes in creating disruption in the marketplace that results in client growth in terms of revenue and profitability.
In addition to delivering innovative websites to discriminating clients, Ruckus Marketing offers numerous digital marketing services. These include branding, mobile and web application development, corporate presence, and UX design. Also, the firm has in-house teams that work with businesses to develop winning marketing strategies.
Taking the silver trophy for best web design agency is Blue Fountain Media, which has demonstrated a remarkable commitment to innovation. A glance at the firm's online portfolio leaves no doubt that the agency has world-class expertise. The firm maintains in-house development teams who use the latest languages and frameworks to produce eye-popping websites that load quickly on mobile without sacrificing functionality.
10 Best Design's third-place award winner for being a top web design firm is SPINX Digital. This agency routinely stuns the digital marketing industry with big ideas. They do this by harnessing new technology and creative people, this agency.
The firm's website solutions include web design, application development, and management. By delivering hand-crafted solutions, SPINX Digital ensures that every client establishes a distinct and commanding online presence. Businesses can also trust SPINX Digital for discovery, strategy and planning, CMS solutions, and online marketing services.
The 10 Best Design Awards is a new monthly award that is distributed to the top performers in the web design category. 10 Best Design subjects each contender to a rigorous examination. For this reason, businesses that need to improve their online presence can depend on these firms to get results.
For more information about this month's award winners, visit http://www.10bestdesign.com.