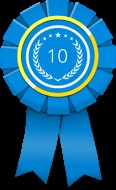 HOUSTON (PRWEB) March 25, 2019
The 10 Best Design ranking service recently released its roster of the top web design and digital agency firms in the Houston area, granting Legnd the highest position on the list.
The new monthly list reveals the top firms that deliver high-quality work to their clients. Companies who are looking for an amazing design firm in the Houston area should consider the businesses on the list. Each was chosen for the high ratings in customer satisfaction. When considering a design firm, it is important to look at their client lists to determine if they have already worked with companies similar to that business. They are reviewed both qualitatively and quantitatively by a team at 10 Best Design. They use statistics and opinions to create the positions on the list and they only include highly-regarded firms. The extensive review process helps the team analyze which company should have the top position.
According to the 10 Best Design website, the best Houston web design firm is Legnd. They are an internet marketing company that focuses on search engine and web design. They have served both the Houston area and the New Orleans area since 2001. They believe the strength of their company comes from their ability to create a strong team that understands the industry from the inside out. They are proud of the product while also operating in a trustworthy environment. They have created a culture of integrity, authenticity, respect, and personal responsibility. They also believe in aggressive work to launch new websites at record speed so they can enjoy their time off.
The second-best company on the list of best web design firms is ChaiOne. They created an integrated team of web designers, engineers, and UX researchers to help companies jump over their competitors. They also design mobile apps. They believe in accelerated change because they focus on reinventing digital technologies for their clients. They also believe innovation is at the heart of their company by providing solutions that can have a huge impact on the business or industry. Though the company is small, they are able to tackle complex issues through their cross-disciplinary expertise. They also believe in creating a new look through innovative designs. They also bring some of the best in house teams available to each client. They have a team of more than 75 people to create the best possible product.
For more details about this month's winning agencies, visit http://www.10bestdesign.com.