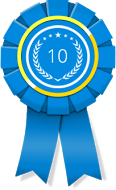 NEW YORK (PRWEB) July 26, 2018
Recently, 10 Best Design chose the winners of its Best Web Design Firm awards for July 2018, honoring Ruckus Marketing as the first-place winner.
This an important award category for a number of reasons. With the Internet playing such a vital role throughout society today, website design companies have become an increasingly sought after commodity. It is so important to have a quality site published online. This should be a place where the visitor is captivated from the very first moment and motivated to explore further. This is not easy to accomplish on one's own, which is why the top web design firms are highly sought after. This is why this month's winners have been awarded the best in website design and are worthy of consideration.
Ruckus Marketing takes the chief spot on this month's list of top Website development companies recognized by 10 Best Designs. This firm is so deserving of being on top because of their dedication to creating unique and custom designed sites for each client that they serve. Rather than relying on templates, Ruckus Marketing takes the individual needs of each company that they serve, turning out a website design that has never before been seen on the internet. This benefits the client by providing them with a way to enhance their SEO strategy and engage consumers who are growing increasingly fickle in terms of the type of company that they do business with.
A close runner up this month, Blue Fountain Media is a leading web design firm worthy of serious consideration. They have a professional team of designers who know how to build sites from the ground up. It is in their purview to generate a site that is customized for the most unique of businesses, from a travel agency that needs a robust booking engine to a sports team that needs a way to sell ticket. As the best website development company, Blue Fountain Media can take an ordinary site and turn it into something that is special in no time at all.
It is important to learn more about the best Web design firms in operation today, so companies are encouraged to continue checking back on a monthly basis. The awards for the top companies in business will be given out each month, meaning that is possible to stay up to date with the very best in Web design no matter what industry or field one might be in.
To learn more details about the winners for the month of July, visit http://www.10BestDesign.com.