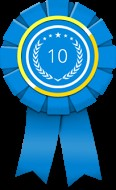 SAN FRANCISCO (PRWEB) March 25, 2019
The 10 Best Design recently revealed its top ten web design companies for 2019, with Ruckus Marketing, Blue Fountain Media and Spinx Digital winning the first three spots.
San Francisco-based 10 Best Design uses a web design checklist to help readers understand which companies have the best front-end design and back-end development. Its analytic review team is made of people who have worked in web design, web development and online branding for years. They created an algorithm that helps rate and review the web design firms. They rank the firms according to analytics, reviews, and research that helps the team establish a strong opinion of the best design firms. They provide reviews that should be considered strictly opinions because it is necessary for each company to choose the best web design firm for their needs. They evaluate the firms they perceive to be top performers in the design world.
The leading web design agency is Ruckus Marketing, which won the coveted position on the list of 10 best web design companies and designers. Ruckus Marketing is a full-service digital agency located in New York that focuses on app development, interactive marketing, and web design. They have been in the market for the past decade and have continued to approve their product. They believe in taking an approach that disrupts the market through powerful and engaging content. Their web design catches attention in an engaging way. They believe in expertly crafted disruption that uses strategic engagement to create real results.
Blue Fountain Media is a top web design agency that won the silver, coming in at second place. They are a digital agency that creates marketing that converts and branding that inspires. The point of web design is to connect with the audience. Their philosophy centers on disruption and change to create new opportunities in the digital world. They focus on using data to create a real conversation with the audience, understanding what they love, need, and want. Then they create accelerated growth by delivering a new experience through web design. They have also won awards from the Davey Awards, Business Best and Communicator Awards.
Spinx Digital also topped the list of best web design firms, coming in third place. The Los Angeles-based digital agency has more than 14 years of experience designing websites. Their process involves discovery to have a better understanding of what each client is trying to build. Then they create a strategy to solve any digital problems the business is experiencing.
To learn more about this month's winning firms, visit http://www.10bestdesign.com.