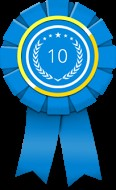 NEW YORK (PRWEB) September 17, 2019
Awards organization 10 Best Design has selected the latest winners of its monthly award for Best WordPress web design agencies. For August 2019, Ruckus Marketing was chosen as the top honoree in this category.
Each month, the 10 Best Design listing service offers a fresh list for the best WordPress web design firm. WordPress is a popular platform for blogs, small business websites and sites for entrepreneurs. It offers a pleasant user experience, so a lot of business owners turn to programmers who can build a site on it and maintain it. The August list of winners represents three of the best WordPress web design agency options that business owners should consider.
Business owners or entrepreneurs who would like a WordPress website should take a careful look at Ruckus Marketing. This firm reached the number one spot on the August list of top WordPress web design agencies. The associates who build WordPress sites at Ruckus Marketing ensure that every client gets a customized website. They take the time to provide a great user experience, and they do this through a lot of testing before the site goes live. They focus on making sure that sites are responsive increases the level of visitor satisfaction. Visitors return to the site, so it gets more traffic. Ruckus Marketing works with a variety of businesses, including medium-sized companies, nonprofit firms and individuals who want to have a professional site.
Another firm for business owners to consider is Blue Fountain Media, a leading WordPress web design firm headquartered in New York. This firm's clients report high satisfaction with Blue Fountain Media's services related to building eCommerce into a site. This type of setup allows a company to enjoy the convenience of online sales. Blue Fountain Media's hourly rates are also attractive to clients, especially those who need to keep close tabs on their technology and infrastructure expenses.
Top WordPress web design agency SPINX Digital is also recognized as one of the ten best firms for designing sites on the WordPress platform. The firm is headquartered in Los Angeles, CA, and its small size allows it to provide a personalized experience for the client. They have a high satisfaction rating that stems from their ability to integrate SEO into the site's layout. SPINX Digital works with clients in many different market niches.
Business owners should be sure to visit this list again next month, because the top performers could change. This is a brand-new monthly award, and it is designed to facilitate the decision-making process when businesses are searching for a WordPress design firm to assist them.
To learn more information about the award-winning companies for August, visit http://www.10bestdesign.com.