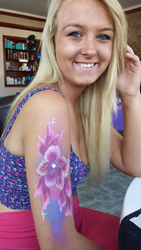 Putting smiles on faces...is such a blessing."
Chicago, Illinois (PRWEB) August 31, 2014
More than ever, charities are looking for ways to earn money. For this Chicago face painter, putting smiles on faces translates into cold hard cash for a worthy cause.
North Shore Unity Church had been hit hard by recent flooding, due to antiquated flood drains on their property. And, two local entertainers wanted to do their part to help the church raise money for the church's flood repair fund. From cooperating with the church, a date was set for a back to school event. And, even though that event fell on a Thursday night during the first week of school, the duo raised nearly $5,000 in just 2 hours for the local church.
"There are few things more beautiful and more touching than seeing a child smile brightly," says Ms. Valerie, Chicago face painter extraordinaire. Ms. Valerie continues, "Putting smiles on faces helps everyone. And, being able to do that is such a blessing."
The other half of the duo is a University of Colorado Marketing graduate, professional mobile disc jockey and MC. Says Schroeder, "It's essential to use the talent that God has given you to help people in need. That is what we are here to do. And, entertainment is a fabulous way to bring families together."
The Chicago face painter and DJ duo provided the marketing copy, the quarterbacking and the talent for the event; and, the church provided the locale, the volunteers, and the reach of the congregation. Result? Families showed up and had a great time. The church earned money for their flood fund. Everyone is a winner.
To find out how your Illinois organization can raise money for your worthy cause, contact Glenn David Productions at 1-800-887-3517. For more information on booking Chicago Face Painter, Ms. Valerie, go to http://www.bestchicagofacepainting.com.