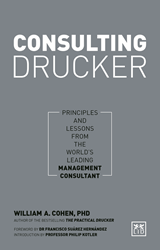 Easy to read, easy to understand, and easy to use. This book should be in everybody's leadership toolbox. —Howard Behar, Starbucks International
(PRWEB) August 20, 2018
Known worldwide as "the father of modern management," Peter Drucker is also the most celebrated management consultant of all time. Although hundreds of books have been dedicated to the foundations of Drucker's management philosophies, none have revealed the specifics of his notoriously effective consulting methods — until now.
Enter William Cohen, member of the first generation of Drucker PhDs from the Peter F. Drucker and Masatoshi Ito Graduate School of Management of Claremont Graduate University and author of more than 50 books. His most recent title, "Consulting Drucker: Principles and Lessons from the World's Leading Management Consultant" (LID Publishing, 2018), is the first book to reveal, in detail, Druker's specific consulting methods that, when applied correctly, have been heralded for saving organizations thousands of wasted hours and unnecessary frustration.
Recalling case studies with leaders from a wide range of organizations across all sectors of society, including GE, IBM, Intel, Procter & Gamble, the Salvation Army, the American Red Cross, and United Farm Workers, as well as several presidential administrations, Cohen's book provides the tools that enable readers to get more deeply in touch with Drucker's methodology in a straightforward, didactic way, clearly illustrating how to conduct professional consulting for startups, small businesses, corporations, and non-profits by offering better advice to clients, subordinates, bosses, and fellow executives.
Throughout each chapter, Cohen thoughtfully underscores his actionable prose with motivating Drucker quotes he's cataloged over the years as his disciple. He writes, "'Without action, nothing gets done.' The action part is essential, and that part is up to you. You have to take Drucker's ideas and apply them to your own issues. From this, there are no limits to what you can do."
"Consulting Drucker" is available for pre-order on Amazon, Barnes & Noble, and IndieBound (paperback, retail price: $19.95) and will be released for sale in the US on September 4, 2018.
Advance praise for "Consulting Drucker" includes:
"William Cohen's new book has brought the genius of Drucker to life for all of us. Easy to read, easy to understand, and easy to use. This book should be in everybody's leadership toolbox." —Howard Behar, president, Starbucks International, retired
"Thanks to Dr. Cohen's work, effort, and knowledge of Peter Drucker's life and philosophy, he not only allows us to gain a clearer view and understanding, but also keeps alive Drucker's dream — guiding us throughout his legacy." —Dr. Francisco Suárez Hernández, vice president of corporate affairs, Coca-Cola FEMSA
About William Cohen:
Dr. William A. Cohen was the first graduate of the doctoral program that Peter Drucker co-founded. What Drucker taught him changed his life. Shortly after graduating, Cohen was recommissioned in the Air Force and rose to the rank of major general. Eventually he became a full professor, management consultant, and the author of more than 50 books, while maintaining a nearly lifelong friendship with his former professor. In 2009 he was named a Distinguished Alumnus by Drucker's school, Claremont Graduate University, and two years later he co-founded the non-profit California Institute of Advanced Management with the mission of offering affordable graduate degrees based on Drucker's principles. He served as its president from 2010-2016. He now serves as president of the Institute of Leader Arts, an international training and consulting company. Visit: http://stuffofheroes.com/
About LID Publishing:
LID Publishing specializes in working with business authors and organizations to help them develop content to promote their brand, message, and expertise. Founded in 1993, LID has over 1,700 authors and continues to add approximately 120 new titles each year. Visit: http://lidpublishing.com/