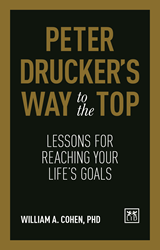 "Practical ways to build and run a successful business, as actually accomplished by Peter Drucker. —Dr. Pedro Chan, Executive Director, American Flying Tigers Institute
NEW YORK (PRWEB) October 29, 2018
Across the globe, many current business and political leaders demonstrate a lack of integrity. The self-development lessons passed on from Peter Drucker, the father of modern management, serve as an all-important reminder that today's leaders have an obligation to lead well-run organizations — no matter how big or small — with integrity and responsibility.
In "Peter Drucker's Way to the Top: Lessons for Reaching Your Life's Goals" (LID Publishing, November 2018), bestselling author and famed Drucker disciple Dr. William Cohen explains that these "soft" skills of business — integrity, responsibility, ethics, morality — are not born, they are developed over time, and from within.
This widely applicable leadership book examines the specific self-development methods that Drucker himself created and practiced and includes many examples, both old and new, to illustrate the critical points being made. Additionally, Cohen provides an overview of the qualities of a leader and guidelines on how to develop these qualities.
For as Peter Drucker famously wrote: "The most crucial and vital resource you have as an executive and as a manager is yourself; your organization is not going to do better than you do yourself."
"Peter Drucker's Way to the Top" is available for pre-order on Amazon, Barnes & Noble, and IndieBound and will be released for sale in the US on November 6, 2018.
Format: Hardback
Retail Price: $29.95
ISBN: 9781911498759
Page Count: 234
Advance praise for "Peter Drucker's Way to the Top" includes:
"I must say, I enjoyed reading this manuscript. It ultimately focuses on self-development but the book also provides a great overview of Drucker's work and includes many examples." —Professor Jenny Darroch, Henry Y. Hwang Dean, The Peter F. Drucker and Masatoshi Ito Graduate School of Management
"'Peter Drucker's Way to the Top' will show you practical ways to build and run a successful business, or a professional practice as acutally accomplished by Peter Drucker, the man we know as 'the father of modern management.'" —Dr. Pedro Chan, Executive Director, American Flying Tigers Institute; former CEO, East West Clinic
About William Cohen:
Dr. William A. Cohen was the first graduate of the doctoral program that Peter Drucker co-founded. What Drucker taught him changed his life. Shortly after graduating, Cohen was recommissioned in the Air Force and rose to the rank of major general. Eventually he became a full professor, management consultant, and the author of more than 50 books, while maintaining a nearly lifelong friendship with his former professor. In 2009 he was named a Distinguished Alumnus by Drucker's school, Claremont Graduate University, and two years later he co-founded the non-profit California Institute of Advanced Management with the mission of offering affordable graduate degrees based on Drucker's principles. He served as its president from 2010-2016. He now serves as president of the Institute of Leader Arts, an international training and consulting company. Visit: http://stuffofheroes.com/
About LID Publishing:
LID Publishing specializes in working with business authors and organizations to help them develop content to promote their brand, message, and expertise. Founded in 1993, LID has over 1,700 authors and continues to add approximately 120 new titles each year. Visit: http://lidpublishing.com/