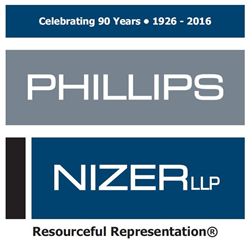 New York, NY (PRWEB) August 15, 2017
Phillips Nizer is pleased to announce that partners Alan Behr, Helene M. Freeman, Michael W. Galligan, Donald P. Perry, Martin B. Wasser and Elliot J. Wiener have been selected for inclusion in the 2018 edition of The Best Lawyers in America©. They were recognized in the annually-published listing based in part on a confidential peer review process.
Alan Behr, chairman of the Fashion Law Practice and member of the Intellectual Property Law and Corporate & Business Law Practices, was recognized in the areas of Copyright Law and Trademark Law.
Helene Freeman, a litigator and also a member of the Fashion Law, Intellectual Property Law, as well as the Entertainment Law Practices, was recognized in the area of Copyright Law.
Michael Galligan and Donald Perry were recognized in the area of Trusts and Estates Law. Donald chairs the Firm's Trusts & Estates Law Practice.
Martin Wasser, chairman of the Environmental Law Practice, was recognized in the area of Litigation-Environmental Law.
Elliot Wiener is the chairman of the Matrimonial & Family Law Practice and was recognized in the area of Family Law.
About The Best Lawyers in America©:
Published by Woodward/White, The Best Lawyers in America© is an annual listing based on thousands of peer reviews by attorneys across a wide variety of practice areas and geographic regions. Attorneys selected by the publisher as one of the nation's Best Lawyers® must be in good standing with the ethics committee of their state bar association.
About Phillips Nizer LLP:
Phillips Nizer, founded in 1926 by world-renowned trial attorney Louis Nizer, represents domestic and international clients in business, finance and real estate transactions, intellectual property matters, commercial litigation and tax and estate planning, with a particular focus on the entertainment, fashion, real estate and technology industries. The firm is a member of Ally Law, a worldwide association of independent mid-sized law firms. To learn more about Phillips Nizer, visit: http://www.phillipsnizer.com.
###