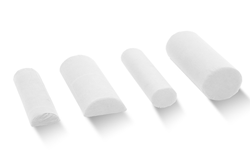 For additional peace of mind for both the practitioner and the client
Chicago, IL (PRWEB) September 08, 2014
Bestmassage.com continues to add new massage table accessories to its massage warehouse offerings, now including bolster covers. The Poly Cotton Bolster Covers are sized to perfectly fit the four different sized and shaped signature bolsters available on BestMassage.com: Jumbo Round, Standard Round, Jumbo Half Round and Standard Half Round.
According to Peter Wang, Marketing Director of BestMassage.com, adding the new bolster covers to BestMassage.com's massage warehouse is central to BestMassage.com's mission. "We always look for massage tools and products that increase both client and therapist comfort. The Bolster Covers offer additional peace of mind for the practitioner and client."
Bolsters are essential for positioning and supporting clients during massage, providing maximum comfort and relaxation. The Poly Cotton Bolster Covers are an economical way to provide clients with a sanitary environment while keeping massage bolsters clean and protected. The soft breathable blend is durable and machine washable.
"The bolster covers are easy to use and perfectly fit all of our available bolsters" adds Wang. "They offer comfort to clients with an added layer of soft hygiene and comfort to bodyworkers by protecting their investment and extending the longevity of their massage products. We love offering massage tools that benefit everyone."
The new Bolster Covers are available at BestMassage.com.
About BestMassage.com
BestMassage.com is proud to be a BBB (Better Business Bureau) accredited organization with a BBB Rating of A+. Having over 14 years of experience and knowledge behind us, we are committed to offering massage therapists and those who care about health and well-being a complete line of high-quality massage tables and supplies at the best prices possible with exceptional, friendly service, and fast shipment. Detailed information on the company can be obtained by visiting http://www.bestmassage.com/