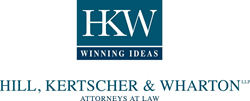 Today, more than ever, clients need dedicated and skilled attorneys to produce successful results in high-stakes IP litigation.
Atlanta, Georgia (PRWEB) June 13, 2017
The law firm of Hill, Kertscher & Wharton, LLP was recently named as one of the top patent law firms in the United States by Intellectual Property Management (IAM). Two of the firm's partners, Steve Hill and John North, earned honors in the patent litigation category for their impressive work on behalf of clients.
IAM noted the attorneys' experience and results in their description of the firm, stating, "Founding partner Steven Hill has successfully handled over 125 patent cases in federal proceedings throughout the country, but will always search for outside-the-box resolutions to otherwise costly skirmishes. Like Hill, John North has spent over 20 years on his feet in the courtroom and is adept across a range of technologies, from software to biochemistry and pharmaceuticals."
This is the sixth year that IAM has released its Patent 1000, which has grown in popularity and serves as a valued resource for clients seeking exceptional legal representation in challenging IP cases across the globe. IAM's list is derived from an extensive research process conducted over five months by a team of full-time analysts, and involves over 1,800 interviews with in-house counsel, patent attorneys, and IP specialists.
Hill has been litigating complex intellectual property matters for more than two decades, and has secured a roster of exceptional wins for clients in high-stakes matters involving patent, trademark, and copyright disputes. North's ability to produce positive outcomes for clients in challenging cases is also well known within the legal community. In 2017, he was named to the list of Top 100 attorneys in Georgia by Super Lawyers Magazine.
Hill, an HKW co-founder, took announcement of the honor as an opportunity to discuss the shared commitment that drives the firm's impressive results. "Today, more than ever, clients need dedicated and skilled attorneys to produce successful results in high-stakes IP litigation," said Hill. "We are confident in our team's experience and approach to resolving disputes, but it's our unwavering commitment to the client that really sets us apart from other law firms in the industry."
About Hill, Kertscher & Wharton, LLP: Nationally recognized for its work on behalf of businesses and individuals, HKW's litigation, corporate, employment, and intellectual property attorneys provide top tier legal representation to clients in the United States and abroad. The firm is AV Rated by Martindale-Hubbell and has grown by over twenty percent in the past five years.