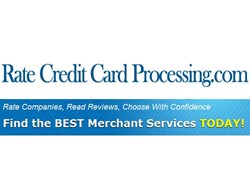 No merchant account company can pay us to have their site rated higher or to remove negative customer reviews...
Fort Lauderdale, FL (PRWEB) November 14, 2013
Ratecreditcardprocessing.com announces a new ranking strategy that bucks industry norms and ranks credit card processors based solely on the customer reviews they receive at the site. A new update to the listings made public has just been released.
"Most credit card processing rating sites order their merchant account reviews to maximize their affiliate income," said Greg Wong of Ratecreditcardprocessing.com. "That is why most lists are usually identical, showing the same companies over and over, even if the processing companies provide poor support, high rates and poor service and features."
Mr. Wong said the site rankings at RateCreditCardProcessing.com are being 100% customer review ordered, positions resulting solely from their weighted customer ratings.
"What this means is that a credit card processing service with a 5-star rating by a single reviewer won't automatically go to the top of the list, but one with numerous positive reviews will," Mr. Wong said. "The rankings are a result of both popularity and feedback scores from real consumers."
To further bolster the integrity of its rankings, Ratecreditcardprocessing.com has also announced that it does not accept banner advertising on its website so as to not be unduly influenced by an advertiser relationship.
According to the officials of RateCreditCardProcessing.com, the decision not to display ads on the site simply means no merchant account company can pay to have their site rated higher or to remove negative customer reviews.
To see the updated list of companies at RateCreditCardProcessing.com or to browse reviews of popular, and not so popular, credit card processing companies, visit: http://www.ratecreditcardprocessing.com
About RateCreditCardProcessing.com
RateCreditCardProcessing.com is the go-to site for 100% user driven reviews and feedback on credit card payment processing companies, allowing consumers to compare services and costs online.
Visit to learn more here: http://www.ratecreditcardprocessing.com