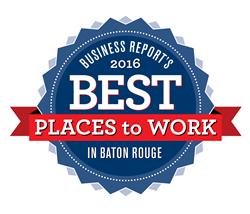 The awards program identifies, recognizes and honors the best places of employment in Baton Rouge.
(PRWEB) October 17, 2016
Alliance Safety Council has been recognized as one of the 2016 Best Places to Work in Baton Rouge. Alliance was one of only 30 companies named in the small to medium category. This category is comprised of businesses with 15-249 U.S. employees. Twenty companies with 250 or more U.S. employees were also recognized.
This survey and awards program was designed to identify, recognize and honor the best places of employment in Baton Rouge, benefiting its economy, its workforce and businesses. The survey gathered responses on topics such as leadership, corporate culture, role satisfaction, work environment, pay, benefits and overall engagement.
The awards program is presented by the Greater Baton Rouge Business Report and sponsored by the Greater Baton Rouge Society for Human Resource Management. Companies were selected for the list based on an employee survey that was administered by Best Companies Group, which managed the overall registration and survey process in Baton Rouge and also analyzed the data and determined the final rankings.
Kathy Trahan, president and CEO of Alliance Safety Council, stated, "The leadership team strives for high marks in all of the above-mentioned areas because it is with a dedicated, engaged staff that we are able to provide our members exceptional service. We value the feedback of our employees as we strive to continue to improve and grow as an organization."
The 2016 list of Best Places to Work appears in the Oct. 10 issue of Business Report, and all of the companies were honored at a breakfast held on Sept. 28 as part of the Louisiana Business Symposium.
For more information about the awards program, visit http://www.businessreport.com.
#
Alliance Safety Council is a member-driven association providing online and instructor-led safety training as well as technology and records management services. Alliance has delivered 700,000-plus training units and trained 180,000 students annually from every state in the U.S. and internationally. The association offers basic orientation safety training and courses that help companies meet their annual OSHA requirements in addition to its highly acclaimed programs, such as Certified Occupational Safety Specialist® (COSS), Certificate for Occupational Safety Managers (COSM), Safe Supervisor™ and PowerSafe™. In a consortium with Louisiana State University's College of Engineering, Alliance offers OSHA training as the Mid-South OSHA Training Institute Education Center. Mid-South is one of only 26 OSHA-authorized centers in the U.S. and the only center located in Louisiana. For more information, visit http://www.alliancesafetycouncil.org.