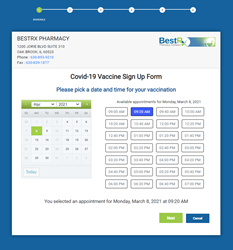 Over 100,000 patients have experienced that their local pharmacy can provide the same level of technology and convenience they would get at a chain, but with the personalized service only an independent pharmacy can provide.
OAKBROOK, Ill. (PRWEB) May 11, 2021
Since COVID-19 vaccines began receiving approval, large pharmacy chains implemented customized vaccine management tools across the country. But what about the independent pharmacies who need an efficient way to register, schedule, administer, and report who they are vaccinating? That's why BestRx stepped in to create a free online registration portal to help their clients manage vaccine administration right from their existing BestRx software.
The biggest hurdle for pharmacies administering vaccines was registering patients and scheduling their appointments. As many as 90% of patients receiving their vaccine at a pharmacy had never been to that pharmacy before. That meant a lot of manual data entry for the pharmacy staff. The online portal allows patients to enter their info from the comfort of their homes while also scheduling their appointments. The information entered into the online portal automatically syncs up with the pharmacy's BestRx system to eliminate the need for any manual data entry, saving an incredible amount of time and money for the pharmacy.
The online portal also features customizable and easy-to-use scheduling capabilities, made possible with BestRx's integration with MakePlans. This feature allows the pharmacy to open custom appointment windows that match up with the vaccine inventory they have in stock. Patients can then choose an available appointment during registration. For the pharmacy, the appointment information automatically syncs up with their BestRx system and goes into their COVID-19 vaccine queue. For the patient, they will receive a confirmation email for their appointment that also includes a QR code to help the pharmacy easily retrieve their registration info during their appointment.
The online COVID registration portal has been used by pharmacies using BestRx across the nation, and so far well over 100,000 patients have registered for their vaccines using this portal. The portal's ability to eliminate manual data entry has helped BestRx clients to not only save countless man-hours by streamlining their operations, but it has also increased accuracy, compliance, and most importantly, patient satisfaction. Over 100,000 patients have experienced that their local pharmacy can provide the same level of technology and convenience they would get at a chain, but with the personalized service only an independent pharmacy can provide.
In addition to the online registration portal, BestRx also includes the following benefits that help pharmacies manage their COVID-19 vaccines:
Easy-Access Patient Info - Every registration and appointment features a QR code that can be scanned by the pharmacy upon patient arrival. When the QR code is scanned, everything from patient information, pre-existing conditions, screening questionnaires, and consent forms will automatically be pulled up within the BestRx system.
Automated Notifications - The pharmacy can configure their system to send out automated notifications and reminders for vaccine appointments. Email confirmations can be sent after registration, and reminders can be custom configured to be sent out via text or email prior to a patient's appointment. Patients can even reschedule or cancel their appointments from these notifications if their needs have changed.
Proper Billing Support - BestRx has all the tools to allow pharmacies to properly bill and administer the various COVID-19 vaccines. Custom screens have been created to allow pharmacies to enter all relevant information from one place. And BestRx has integrated with FDS Amplicare to allow for the billing of the vaccines through the medical benefit when required by the patient's insurance.
Simplified Second Dose Scheduling - For vaccines that require a 2-dose regimen, BestRx will automatically prompt the pharmacy to schedule the second dose appointment for the patient. The pharmacy also has the option of using a separate private calendar for these appointments to allow them to efficiently manage them along with the appointments made from the public online registration portal.
Automated Reporting to Immunization Registries - Pharmacies can stay in compliance with state and federal regulations thanks to the vaccine reporting capabilities within the BestRx system. Anytime a COVID vaccine is administered, the information is automatically reported to their state registry via our integration with Script Management Partners (SMP), as well as to the CDC via our integration with various Federal Pharmacy Partners (FPP).
About BestRx
BestRx is a leader in innovative software solutions that help independent pharmacies succeed. For two generations, BestRx has studied the needs of independent pharmacies to create tools that support billing, automation and compliance and benefit pharmacy owners, patients and local communities. For more information, visit BestRx.com.