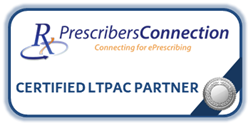 "Earning this designation is validation of our efforts over the years," says Hemal Desai, President of BestRx. "It is a reflection of our unwavering dedication to foster increased efficiency and excellence within the industry and the independent pharmacies we serve."
OAK BROOK, Ill. (PRWEB) November 17, 2021
BestRx is proud to announce they received the Long Term and Post-Acute Care Partner Certificate of Compliance by PrescribersConnection® LLC, for both Facility & Pharmacy Managed Orders, earlier this year. This designation was awarded in recognition of BestRx's commitment to the LTPAC industry, shared patient model, LTPAC ePrescribing best practices, and adherence to NCPDP SCRIPT Standard.
PrescribersConnection partners with forward thinking organizations and companies committed to providing the most up to date industry innovations to its customers, as well as enhanced safety to the patients they serve. PrescribersConnection welcomes BestRx as a valued LTPAC Partner, on the nation's only focused LTPAC ePrescribing Network.
"Over the years, BestRx has continued to grow and evolve in order to best support our independent pharmacy customers and elevate the level of care they provide within their communities," says Hemal Desai, President of BestRx. "Earning this designation is validation of our efforts over the years and is a reflection of our unwavering dedication to fostering increased efficiency and excellence within the long term and post-acute care industry."
To obtain the PrescribersConnection LTPAC Certification, partners must complete rigorous and thorough certification tests. Every partner is held to the same LTPAC requirements, workflows, and testing expectations; this ensures that the systems interoperate easily and seamlessly. BestRx was certified by PrescribersConnection after successfully meeting all standardized integration requirements and applicable certification criteria, including:
1. Long Term & Post-Acute Care Workflows for both Facility & Pharmacy Managed Orders
2. PrescribersConnection Integration Requirements
3. PrescribersConnection's NCPDP SCRIPT v2017071 Standard Implementation
4. Connectivity through PrescribersConnection Network
About BestRx
Founded in 1985, BestRx is proud to still be a family business. Our goal from day one has been to give independent pharmacies the tools needed to run their business more efficiently, purposefully, and profitably. BestRx prides itself on its intuitive, easy-to-use platform, robust integrations, and unparalleled customer service. BestRx is committed to ongoing innovation, ensuring they'll always be at the heart of growth. To learn more about BestRx, please visit: https://bestrx.com
About PrescribersConnection
PrescribersConnection is a developer and marketer of electronic prescription (ePrescription) software solutions that automate the prescription fulfillment processes for healthcare organizations and pharmacies. The PrescribersConnection Network is a linked network of Long Term and Post-Acute Care facilities, prescribers, and pharmacies delivering fast and reliable electronic transport of census information, new prescriptions, fill notifications, resupply requests, prescription discontinues, administration reauthorizations, and suspend/resume administration notifications. To learn more about PrescribersConnection, please visit: https://prescribersconnection.com