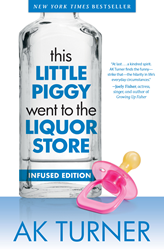 This sincere, laugh-out-loud confessional from Turner candidly reveals and revels in the flaws and dysfunctions of the author and her family...Turner is not afraid to voice her private thoughts and never takes herself too seriously... refreshingly honest. -- Publisher's Weekly
DALLAS (PRWEB) October 23, 2018
Award-winning author AK Turner gives a hilarious account of parenthood in This Little Piggy Went to the Liquor Store: Unapologetic Admissions from a Non-Contender for Mother of the Year (2nd Edition- Brown Books Publishing Group, October 2018), which releases today. In this laugh-out-loud "momoir," Turner celebrates her imperfect approach to motherhood while sharing raucous accounts of her misadventures in parenting.
At sixteen, Turner studied abroad in Russia, where the natives berated her smoking habit and preached superstitions that would prevent motherhood. But Turner had no intention of having children or sex--"well, maybe the sex, but definitely not kids." Rather, she scorned the idea of marriage and children (in favor of becoming a stiletto-wearing, attache-carrying Secret Agent), and instead majored in Russian, and minored in vodka. Nonetheless, she one day found herself with child...and in-laws.
This Little Piggy Went to the Liquor Store is a brutally honest confessional that explores the good, the bad, and the ugly of motherhood. Publishers Weekly writes, "This sincere, laugh-out-loud confessional from Turner candidly reveals and revels in the flaws and dysfunctions of the author and her family...Turner is not afraid to voice her private thoughts and never takes herself too seriously... refreshingly honest."
Turner's side-splitting humor will have moms laughing out loud at chapter titles like "I Like My Ovaries Frozen," "I'm Not Having Twins, Bitch," and "Mamas, Don't Let Your Babies Grow Up to Be Serial Killers." This Little Piggy Went to the Liquor Store is the hilarious start to Turner's "Tales of Imperfection" series, with the next two books titled, Mommy Had a Little Flask and Hair of the Corn Dog. The New York Times bestselling humor author previously released the Vagabonding with Kids series (Brown Books Publishing Group), and has contributed to such publications as The Huffington Post, Scary Mommy, Home Exchange, and Artocratic.
For more information on This Little Piggy Went to the Liquor Store please visit http://akturner.com/.