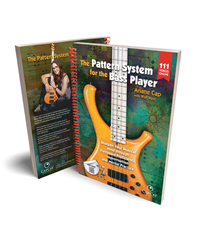 "Ariane's "The Pattern System for the Bass Player" is a landmark book! It presents a wealth of musical information with a thoughtful, systematic approach, designed to guide any student through the process of learning to create music with the bass." Michael Manring, solo bass pioneer
LOS ANGELES (PRWEB) March 16, 2021
A busy bassist, self-published author, blogger, bass course creator and online personality, Ariane Cap has made a name for herself in the online bass teaching space. Her activities on her own platform arisbassblog.com, regular appearances on ScottsBassLessons, notreble.com and TrueFire have created a loyal and enthusiastic following for Cap and her partner Wolf Wein.
Her first book teaches the fundamentals of music theory through patterns on the bass fretboard. Her follow up work takes this pattern-based approach several steps further in that it teaches the patterns of music (scales, arpeggios, pentatonics, etc.) systematically all over the fretboard, in all keys and areas of the bass. Essential is the authors' use of improvisation, scalar drills, and concise instruction on how to execute mental practicing through visualization and inner hearing. The result is not only superior fretboard proficiency, but a new creative awareness of the patterns of music itself.
The book comes with 111 demonstration videos, 12 practice planners, test questions to deepen understanding, and a vast FAQ section. Cap has taught this method to hundreds of students over many years and can point to consistent excellent results for her students. Cap says she wrote this book together with Wolf Wein because she wanted to make this practice procedure available to a wider audience. The authors had learned a similar method back in Europe in the 80's and developed it further. Particularly the inclusion of mental practice and improvisation make this a unique and powerful program for today's bass player.
The book describes in detail how to use the metronome to learn to"think ahead" and "think music". A cartoon character named "Skippy McBeat" - a vintage metronome with an attitude and a lot of wisdom to impart - inspires chuckles as much as practicing perfection.
Cap who published the book under her publishing company CapCat Music Media, INC is currently running an Indiegogo Campaign. The campaign went live on 3-2021 and was fully funded within 24 hours. The book can be pre-ordered via the Indiegogo-campaign, which also offers several perks. Books and perks ship in May 2021.