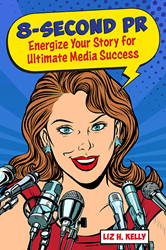 With the average attention span of an adult being 8 seconds, your job as a marketer just got 100 times harder. You must get to the point immediately with clear, concise and compelling content. ~ Liz H Kelly, 8-Second PR Author, Goody PR Founder and Speaker
SANTA MONICA, Calif. (PRWEB) January 14, 2019
Bestselling Author Liz H Kelly announces the release of her new marketing book, 8-Second PR: Energize Your Story for Ultimate Media Success (January 2019) via paperback and ebook. "8 Second PR" is a fun how-to-promote your business guide with case study examples of what works and doesn't work for marketing, social media and public relations campaigns. Kelly emphasizes, "With the average attention span of an adult being 8 seconds, your job as a marketer just got 100 times harder. You must get to the point immediately with clear, concise and compelling content."
Readers will learn how to 1. Tell a Wow Story that inspires raving fans, 2. Score mega media hits (TV, radio and print interviews) and 3. Increase Word-of-Mouth Marketing – all contributing to increased sales and changing lives.
Jess Todtfeld, Former TV Producer (ABC, NBC and FOX), media coach and Author of "Media Secrets" wrote the "8 Second PR" book Foreword and urges readers, "Follow the advice in this book. It will not only help you become better at the PR game, but become a better writer and better marketer, as well."
With a 360-view as an author, marketing professional, founder and reporter, Kelly's how-to marketing and public relations book outlines a proven 8-Step Story Energizer Process in 8 chapters with 8 action items each, along with 8 PR Superpowers. Everything is written in an easy-to-read format with "top tips" lists, pop-up boxes with case studies for how-to pitch and secure media interviews and a clear action plan for next steps.
As a published author with over 500 media interviews (print, radio and TV) over five years for one dating book ("Smart Man Hunting"), Kelly adds, "PR is a marathon versus a sprint, and '8-Second PR' is filled with new tips to magnify your message for years versus months."
8-Second PR will teach readers how to:
1. Develop a memorable and authentic story from the heart.
2. Get to the point immediately for an emotional reaction.
3. Use attention-grabbing phrases in the first eight seconds of an interview.
4. Attract five times more Earned Media (TV, radio, and print) with a Wow Story.
5. Speak to the right audience at the right time using the right media.
6. Be entertaining and educational when presenting your brand.
7. Explain how your brand helps improve the lives of others.
8. Consistently reinvent your pitch to consistently book media interviews.
Kelly's book was inspired by the raving fans at San Diego Comic-Con International who will stay up all night to see their favorite superhero. Kelly's goal is to empower 1 million brands to share their positive impact story and build the same type of loyal fan base who will make their story go viral. From the Digital PR Superpower to the Media Vision Superpower, these new skills can take your personal or business brand to warp speed! The "8-Second PR" book cover includes superhero and comic book colors of red, blue and yellow, similar to the iconic images of Wonder Woman, Spider-Man, Superman and Batman.
To give back, Kelly started the Goody Awards for social good and requires all Goody PR clients have a cause and/or be making a positive impact. For this "8-Second PR" book, a portion of the profits will be donated to the Autism Society of America.
BOOK: Order "8-Second PR" in Paperback and eBook on Amazon here
https://www.amazon.com/dp/0578423219
eBOOK PROMOTION: The 8-Second PR ebook is free with this launch announcement via a KDP Select Kindle for 2 days only: January 14 and 15, 2019 via Amazon.
ABOUT THE AUTHOR
Liz H. Kelly is a bestselling author, Goody PR and Goody Awards CEO/Founder, and speaker who is passionate about magnifying brands, experts and causes through marketing, PR, and social media campaigns with a powerful story. After working for Fox Interactive Media/Myspace, Paramount Pictures, Sprint PCS, and LA startups, Kelly decided to use her marketing experience for GOOD full-time in 2008. As a published author with over 500 media hits (print, radio and TV interviews) over five years for one dating book (Smart Man Hunting), Kelly and her work have been featured on CNN, FOX News, KCBS, KTLA, USA TODAY, The Chicago Tribune, Cosmopolitan, Buzzfeed, BBC Radio and more. Kelly teaches digital marketing at UCLA Extension, is a Social Media Club Los Angeles Board Member, speaks at industry conferences, is a Johns Hopkins University Carey School of Business alumna, and an Autism Advocate. Follow @LizHKelly, http://GoodyPR.com and/or http://8SecondPR.com