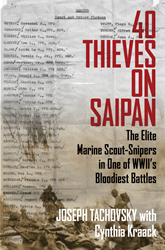 The Marines I have seen around the world have the cleanest bodies, the filthiest minds, the highest morale, and the lowest morals of any group of animals I have ever seen. Thank God for the United States Marine Corps. - Eleanor Roosevelt (quote republished in "40 Thieves on Saipan")
GREEN BAY, Wis. (PRWEB) October 13, 2020
In sync with the 245th Marine Corps Birthday (November 10, 2020), Midwest Authors Joseph Tachovsky and Cynthia Kraack honor Lt. Frank Tachovsky and his WWII Sixth Marine Regiment in the bestseller "40 Thieves on Saipan – The Elite Scout-Snipers in One of WWII's Bloodiest Battles." The Marine Corps' birthday celebrates the history and honors members and veterans, while recognizing young Marines who represent their future.
With the pandemic, 2020's Marine Birthday celebrations will be different and more remote. Instead of going to the traditional Birthday Balls in places such as Las Vegas, San Diego and Okinawa, celebrations may include reading WWII history books like "40 Thieves on Saipan" and/or watching movies about Marine stories ("Flags of Our Fathers", "Full Metal Jacket" and "A Few Good Men") with close family and friends.
In the opening of the "40 Thieves on Saipan", Eleanor Roosevelt is quoted for saying, "The Marines I have seen around the world have the cleanest bodies, the filthiest minds, the highest morale, and the lowest morals of any group of animals I have ever seen. Thank God for the United States Marine Corps."
After Frank Tachovsky passed away in 2011 at age 96, his son Joseph Tachovsky opened the "off limits" footlocker in the garage, and discovered a treasure trove of personal letters, medals, the platoon roster, and old photographs (surprising, considering the WWII Marines were not allowed to carry cameras) that are the foundation for this book.
To record this "Greatest Generation" Elite Marine Corps' platoon in the Pacific Theater, "40 Thieves on Saipan" is a treasure trove of stories. Readers are taken on a journey from the platoon's early days during training in Hawaii to winning the Battle of Saipan (June 15 – July 9, 1944). Ironically, early Spanish mariners referred to Saipan and its adjacent islands as "Las Islas de los Ladrones", The Islands of Thieves.
Tachovsky's "40 Thieves" were given their nickname for their prowess in acquisitions made via "Marine Methods." Many of the men chosen for the platoon were selected because of spending time in the brig. And these Leathernecks were "part of the few, the proud", who always looked out for each other and focused on completing their mission.
This Special Operations Scout-Sniper unit was trained to work undercover behind enemy lines, and did dangerous things that the men never wanted to discuss while alive. Sadly, some of the Marines in the "40 Thieves" platoon did not make it home, and their stories, letters and burials are shared in this military history book.
For the past 9 years, Joseph Tachovsky met with the four surviving members of the "40 Thieves" and their family members to record this important World War II history. With over 600+ pages of Oral Histories, Award-Winning Author Cynthia Kraack worked with Joseph Tachovsky to turn it into a 300-page bestselling, creative non-fiction narrative.
When the book was finally published, there were only two surviving members, and sadly today, there is only one. Surviving Member Roscoe Mullins expresses his gratitude in the book, "I am thankful that someone took the time to tell our story. Otherwise the world would never know the 40 Thieves, how we lived, what we went through, and how some of us died. I remember every one of my buddies and pray for them every day.".
Tachovsky's book ends with respect for their dedication and service with the Marine Corps motto, "Semper Fi", "always faithful." The traditional reply is "Oorah", which anyone can say to a Marine, especially on November 10th.
AMAZON
40 Thieves on Saipan: The Elite Marine Scout-Snipers in One of WWII's Bloodiest Battles (Regnery History, June 2020)
https://www.amazon.com/40-Thieves-Saipan-Scout-Snipers-Bloodiest/dp/1684510481
FACEBOOK - "40 Thieves on Saipan"
https://www.facebook.com/40ThievesSaipan
MEDIA CONTACT:
Liz Kelly, 310-987-7207
ABOUT THE AUTHORS
JOSEPH TACHOVSKY (Sturgeon Bay, Wisconsin and Minneapolis, Minnesota) is an Author and son of WWII Lieutenant Frank Tachovsky ("Ski"), whose new book "40 Thieves on Saipan: The Elite Marine Scout-Snipers in One of WWII's Bloodiest Battles" (June 2020) documents many stories, photographs, letters and memories of the 40 brave men in his father's platoon. Known as the "40 Thieves" for their covert Special Operations and prowess in acquisitions made through "Marine methods", these American war heroes took great risks and contributed to V-J Day (Victory over Japan Day). After his father passed away in 2011 at age 96, Joseph opened the "off limits" footlocker in the family garage and has dedicated the past decade to uncovering the stories of these American Heroes. As a graduate of the University of Minnesota, Joseph is a successful Minneapolis-based restaurant consultant. Members of the "40 Thieves" and this book have been featured on the TODAY Show, WBAY ABC Green Bay, Wisconsin, KTMF ABC/FOX Missoula Montana,, WBAY ABC Green Bay, KHON2 FOX/CW Honolulu, KITV ABC Honolulu, National Defense Radio Show, and in Stars and Stripes, FoxNews.com, AP, Missoulian, Montana Standard, and more. https://www.40thievessaipan.com
CYNTHIA KRAACK (Minneapolis, Minnesota and Fish Creek, Wisconsin) is an Award-Winning fiction writer, who partnered with Co-Author Joseph Tachovsky to write the story of his father's heroic WWII War platoon in "40 Thieves on Saipan: The Elite Marine Scout-Snipers in One of WWII's Bloodiest Battles". Kraack holds a B.A. in Journalism and History from Marquette University, a Master's degree from the University of Minnesota and an M.F.A. from the University of Southern Maine. https://cynthiakraack.com/