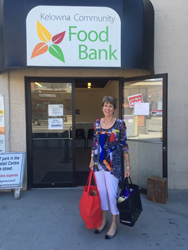 Our commitment to community initiatives and environmental sustainability is a big part of our core values.
KELOWNA, BC (PRWEB) December 22, 2016
Charity and environmental sustainability have always been firmly entrenched among the core values of Best Western Plus Kelowna Hotel & Suites, and 2016 was no different. The hotel capped another solid year of supporting community initiatives, while encouraging other Kelowna hotels to follow suit.
Most recently, in mid-December, Best Western Kelowna dropped by the Central Okanagan Community Food Bank to donate more than $1,300 from its Jeans Day program. The contribution comes at an important time of year.
According to an article by Castanet earlier this month, the food bank expects to distribute 2,000 Christmas hampers to help out the growing number of families in need in the area. This is a 25 per cent increase from 2015.
Brenda Rayburn, director of marketing and sales at Best Western Kelowna, says Jeans Day is an easy way for the hotel employees to give back. They had the option of dressing semi-casual on a Friday in November, in exchange for a donation of whatever the employee could give. Hotel owner & CEO, Greg Salloum, matched those donations allowing the hotel to assist more families and individuals.
"Selecting the Central Okanagan Food Bank was an easy choice for us, as we share their mission in 'creating a healthy, hunger-free community," says Rayburn. "Our values are congruent and, therefore, we can assist the Central Okanagan Food Bank in providing healthy and nutritious foods to those in need and make a difference in our community."
Best Western Kelowna also got behind another food bank initiative this year: The One Bag Challenge. It started out as a grassroots enterprise by Kelowna mayor Colin Basran that ended up going national. Best Western Kelowna quickly got on board and then tasked other Kelowna hotels to take up the challenge.
When the City of Kelowna introduced the Champion for the Environment Award to its Civic Awards event in 2011, Best Western Kelowna was the first recipient. A year later, Rayburn approached the city to take on the role of sponsor for both the business and individual awards in this category.
"Having won the award for business four years ago, we decided we needed to support and continue to encourage other businesses and individual efforts of citizens in our community committed to sustainability," she says.
The Champion for the Environment Award is presented to a business and an individual who have demonstrated outstanding environmental leadership or initiative that directly benefit the city.
Amber Gilbert, a recreation technician with the City of Kelowna, says Best Western Kelowna is a terrific fit as a sponsor.
"They won the award then for their leadership in environmental practices and set the bar for other businesses to follow suit," she says.
"Their sponsorship support helps us host an awards recognition event that is truly unforgettable for the finalists and their guests, and serves to motivate other people and businesses to take steps towards being more environmentally responsible as well."
Among the Kelowna hotel's many green initiatives are: a previous solar hybrid water-heating system being currently replaced with a Photofitaic system, mineral salt swimming pool; EV charging stations including a Tesla Supercharging Station; and a LEED Silver certified environmental wing. Additional designations include: Green Tourism Canada Gold, HAC 4 Green Key Green Meetings & 4 Green Key Hotel Status, TripAdvisor Green Leader and ecobase Certified, to name just a few.
"Our commitment to community initiatives and environmental sustainability is a big part of our core values," says Rayburn. "Going forward, we will continue to invest in these areas and support individuals and organizations who are actively involved as well."
About Best Western Plus Kelowna Hotel & Suites
The Best Western Plus Kelowna Hotel & Suites has been offering guests a convenient launching pad to all there is to enjoy in the Okanagan. The Best Western's amenities and extras include fibre optic Internet, a mineral pool, hot tubs, free hot breakfast buffet, fitness centre, wellness spa, a restaurant and pub and more. With dozens of eco-tourism awards and a LEED Silver environmental wing as well as a sprawling, grass and garden courtyard surrounding its 176 rooms, this Best Western Plus has become one of the most popular 'green' and pet-friendly Kelowna hotels.
For more information, please contact:
Brenda Rayburn
Director of Sales & Marketing
1-250-979-1212
info[at]bwkelowna[dot]com
http://www.bestwesternkelownahotel.com