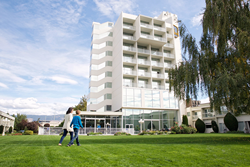 We're seeing a lot more relocation stays (hotel guests who are looking for permanent homes).
Kelowna, BC (PRWEB) October 27, 2016
As the city experiences a surging, more diverse population, driven in part by a cycle of tourism and new amenities, Best Western Plus Kelowna Hotel & Suites acts as a welcoming wagon while guests look for new homes or consider taking the leap.
"Our hotel plays an integral part in enhancing our guests' experience. We're their first impression, whatever it is they're here for, and we like to think we're a reflection of what Kelowna has to offer now in terms of amenities and culture—their stay with us, the lifestyle they experience here—is helping to fuel that growth," says Brenda Rayburn, Director of Sales and Marketing, Best Western Plus Kelowna Hotel & Suites.
"We're seeing a lot more relocation stays (hotel guests who are looking for permanent homes), and we recently had a three-week span where nine different groups visiting from Saskatchewan who were staying with us decided to take the leap and move to Kelowna."
Rayburn, who grew up in the big city, has worked at the Harvey Avenue Best Western Kelowna Hotel for 11 years, has seen firsthand how, even in the last five years, the city has begun to attract not just more residents, but a different demographic of residents who are here for a balance of lifestyle and work. Different types of employment, different kinds of amenities, which spurs more activities, diversity, and growth.
A recent Kelowna Capital News article confirms that the Central Okanagan's population growth has led "to an increasingly diverse community" which has brought students from 56 different countries to the school district's welcome centre.
District assistant superintendent Rick Oliver told the paper, "We've seen a steady stream of new immigrants in this area. Kelowna and area is getting a bit better known and becoming a more attractive place to settle."
Rayburn says the demographic of travellers has changed as well, along with a more diverse array of activities.
"We love our golf and wine in the Okanagan, while continually growing, offering an abundance of activities and attractions to choose from. Kelowna truly has become synonymous with health and wellness, and how fun that can be," says Rayburn, citing the flyboarding on the water, zumba lessons in the park, uber-generous biking and walking pathways downtown, a downtown winter ice rink/summer rollerblading park, and more (all just 10 minutes from their Kelowna hotel, an urban resort featuring a wellness spa and a grassy courtyard that welcomes pets and kids alike). "We used to say 'Kelowna is open for business.' Now we say, 'Kelowna is open.'"
Open to all types of activities, and all types of people. Even royals. Prince William and Kate stopped in Kelowna in late September, where they had a chance to experience Kelowna's hospitality for themselves, and give the city yet another moment in limelight sure to draw more guests, and more residents.
About Best Western Plus Kelowna Hotel & Suites 
This award-winning "green" hotel, the Best Western Plus Kelowna Hotel & Suites, is located in the heart of the Okanagan Valley and is a launch pad to a wide range of activities in all four seasons. Offering first-class accommodations in Kelowna, with recreational facilities and meeting space, the hotel is also pet-friendly.
Brenda Rayburn
Director of Sales & Marketing
1-250-860-1212
info[at]bwkelowna[dot]com
http://www.bestwesternkelownahotel.com