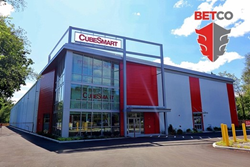 Over the past 36 years, the BETCO name has become synonymous with quality and trust because of their world-class team and suite of products and services.
STATESVILLE, N.C. (PRWEB) April 20, 2020
BETCO INC., your trusted partner in the design and construction of custom self-storage buildings, today announced the launch of their new brand. News of the rebrand comes on the heels of an announcement that industry veteran, Roc Hughes, has joined BETCO to lead their growing sales team. Hughes joined the BETCO team as the VP of Business Development on April 6th and adds 18 years of self-storage building and construction experience to the BETCO executive team.
BETCO CEO, Shannon Marshall, said of the announcements:
"We're thrilled to have Roc join our executive team. His wealth of knowledge and experience in the self-storage industry perfectly position us to keep up with our rapid growth and expand BETCO's reach worldwide. We're also very excited to launch our new branding. We've modernized our look to better reflect our growing and dynamic organization"
Vice President of Business Development, Roc Hughes said:
"Over the past 36 years, the BETCO name has become synonymous with quality and trust because of their world-class team and suite of products and services. I am excited to join such a high caliber and experienced team, and I'm eager to help further their rapid growth."
To see BETCO's work, please visit: https://www.betcoinc.com/buildings/investing-multi-story
ABOUT BETCO:
Since 1984, self-storage developers across the world have turned to BETCO to create custom self-storage buildings of every shape and size. While other self-storage building providers offer piecemeal products and services, BETCO's craftsman buildings are skillfully designed, manufactured, and artfully constructed from the slab up. To find out why self-storage developers across the globe have turned to BETCO for turn-key building solutions, visit: BETCOinc.com