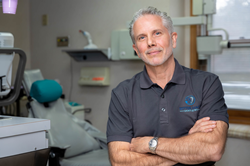 Implants can replace one tooth or many, and are so natural-looking that many people won't be able to tell just by looking.
BRIDGEWATER, N.J. (PRWEB) January 31, 2020
Dr. Drew Fairweather, of Better Image Dentistry, provides permanent and secure new teeth for patients in Bridgewater, NJ with full mouth dental implants. This treatment can often be performed in just a single day, providing patients with a tooth replacement solution that helps them avoid going another day without a complete smile.
Full mouth dental implants provide patients with both functional and aesthetic benefits. With this long-term and reliable solution, many patients are able to avoid ill-fitting conventional dentures and are even able to prevent jawbone loss resulting from untreated tooth loss.
"Missing teeth cause your remaining teeth to shift to fill the space, and cause facial muscles to contract, giving patients a sunken, aged appearance. The solution is dental implants," says Dr. Fairweather. "Implants can replace one tooth or many, and are so natural-looking that many people won't be able to tell just by looking."
The teeth-in-a-day full mouth dental implant solutions offered at Better Image Dentistry allow patients who have failing or missing teeth or who have loose, uncomfortable dentures to receive a permanent, stable new smile. With this treatment, patients are able to go from damaged or diseased teeth to brand-new, replacement teeth in just one appointment. This includes tooth extraction, dental implant placement and restoration with a temporary bridge so they never have to go any time without a complete smile. For those patients who wear dentures currently and are unhappy with the instability or discomfort, full mouth dental implants can secure the denture appliance into the jawbone to prevent slippage and improve the natural bite strength.
Dental implants work by emulating the functions of natural teeth. The implant, a biocompatible titanium post, is inserted into the jawbone, where it securely fuses, just like a natural tooth root. The natural tooth shape is also preserved through state-of-the-art dental crowns or bridges which attach to the implant itself. These allow patients to smile, chew and speak comfortably and confidently. Considered the gold standard solution to tooth replacement, dental implants and full mouth dental implants provide both health and beauty to patient smiles and can last for many years.
Better Image Dentistry offers dental implants to replace single, multiple and even a full mouth of failing or missing teeth. The practice also offers cosmetic dentistry solutions to improve the look of the smile through Invisalign®, crowns and bridges, and the Snap-On Smile™ solution. Dr. Fairweather has earned his Fellowship with the International Dental Implant Association and works to provide cutting-edge dental care.
Those interested in learning more about same-day full mouth dental implants in Bridgewater, NJ, or who would like to schedule a consultation with the dentists, are invited to contact the practice by visiting http://www.betterimagedentistry.com or calling 908-214-7686.
About the Practice
Better Image Dentistry provides personalized, industry leading dental care to Bridgewater, NJ. Dr. Drew Fairweather is a member of the Seattle Study Club and the Dawson Academy Alumni Association and has earned his Fellowship with the International Dental Implant Association. He is a Gold Plus Invisalign® Provider and has been published multiple times in the exclusive Journal of the American Academy of Clear Aligners. Dr. Fairweather and the staff at Better Image Dentistry value providing excellent care from dental implant placement to Invisalign, gum disease treatment, and cosmetic dentistry. They also value giving back to their community and work regularly with organizations such as Agape House, Donated Dental Services, and local food shelters. To learn more about Better Image Dentistry and the services they provide, visit http://www.betterimagedentistry.com or call 908-214-7686.