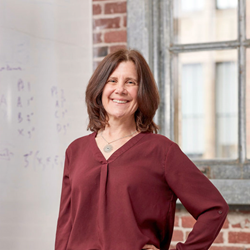 By transforming what has traditionally been talk therapy into a prescription digital therapy, we can address an important gap in clinical care and make the benefits accessible to many more patients in need.
SAN FRANCISCO (PRWEB) June 07, 2019
Today, Better Therapeutics announced the deployment of digital cognitive behavioral therapy in its prescription digital therapeutic for treating adults with type 2 diabetes. By blending clinical, behavioral and psychological inputs into a series of therapy lessons and skill-building modules, the company seeks to isolate and shift the underlying thoughts and beliefs that contribute to poor diet and lifestyle behaviors.
"To meaningfully change behaviors, we need to start by changing the way the brain works," said Kevin Appelbaum, Co-Founder & CEO. "This concept of neuroplasticity, or the ability of the brain to change even in adulthood, can be achieved through a digital intervention that improves cognitive function and enables patient engagement in behavioral therapy in a manner that results in significant clinical outcomes."
A validation study is underway to confirm the effectiveness of the recently created digital cognitive behavioral therapy content. Immediately following, the company will enroll a randomized controlled trial to generate the data for a de novo submission to FDA.
The company also announced that Martha Simmons, MD, PhD has been appointed as Medical Director, Content. In this newly created role, Martha will oversee the creation and execution of clinical content deployed as behavioral therapy in the company's prescription digital therapeutics. She joins Better from Sutter Health, where she held clinical content, program development and health education roles focused on cardiometabolic diseases. Dr. Simmons is a trained neuroscientist, earned her MD and PhD at the University of Iowa, and completed her residency at UCSF, before serving on the clinical faculty.
"We have a unique opportunity to use software, data and clinical content to create engaging, effective and scalable digital therapies that address the growing challenge of cardiometabolic diseases. I'm excited to join this talented team of clinicians and technology experts to deliver prescription products that improve health by changing the behaviors that cause disease," said Martha.
About Better Therapeutics
Better develops prescription software for treating cardiometabolic diseases. By integrating elements of neuroscience, lifestyle medicine, and artificial intelligence, the company has created a new modality for treating a broad range of conditions that share common root causes. The company's digital therapeutics have been validated in peer-reviewed and published clinical trials. Better is beginning to commercialize with health plans, while pursuing regulatory approval of its first prescription digital therapeutic in diabetes. The company is headquartered in San Francisco, CA, and has business operations in Boston, MA, and Nashville, TN.