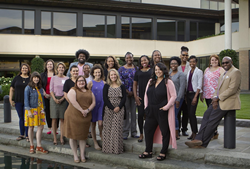 "As students and teachers grapple with distance learning, it's more important than ever to create spaces where students feel honored and respected," said Monica Washington, Ed.S., Manager, Solution Design and Instructional Coach at BetterLesson.
CAMBRIDGE, Mass. (PRWEB) October 15, 2020
In the midst of a global pandemic and a movement to fight systemic racism, there is a renewed focus on making sure that every child feels welcomed and honored in school. On a mission to help educators create inclusive classrooms, BetterLesson, in partnership with The Ewing Marion Kauffman Foundation, announces the publication of 100+ strategies, tools and resources that help educators implement culturally responsive teaching and learning (CTRL). These are the culmination of work that started in the spring of 2019.
As a part of their "Master Teacher Project" model, BetterLesson selected 21 teachers and school leaders based in and around Kansas City who utilize CTRL best practices in their schools. These experienced educators participated in Professional Learning Communities and created resources to support educators in teaching all students to be racially conscious, equity-minded, anti-bias, and anti-racist.
In May 2020, the Master Teachers showcased their strategies and other CRTL topics at the online Insight Conference organized by The Kauffman Foundation and BetterLesson. What began as a small event soon reached its maximum registration capacity of 500 people.
This interest is not surprising. In a recent Education Week Research Center survey of 800 educators, 81 percent of respondents identify themselves as anti-racist or abolitionist educators, but only 14 percent said they had the professional development resources to implement an anti-racist curriculum.
"As students and teachers grapple with distance learning, it's more important than ever to create spaces where students feel honored and respected," said Monica Washington, Ed.S., Manager, Solution Design and Instructional Coach at BetterLesson. "By bringing together support from The Kauffman Foundation, BetterLesson's experience with instructional coaching, and the expertise of these educators, we're able to share a robust collection of CTRL instructional strategies and classroom artifacts during a time when they're crucially needed."
BetterLesson's CTRL series is designed for educators teaching grades K-12, and covers equity-focused topics such as Class Greetings to Create Community, Making Cultural Content Connections, Unheard Voices of History and Creating and Reflecting on the Story of Self. The success of this project has prompted the creation of a second Master Teacher Project called "Meeting the Needs of All Learners", focused on supporting English Language Learners and students with disabilities, set to launch in November.
Educators in the CRTL Master Teacher Project come from 11 school systems, including: Kansas City Public Schools, Kansas City Kansas Public Schools, Shawnee Mission School District, Lawrence Public Schools, Brookside Charter Schools, Ewing Marion Kauffman Schools, Center School District, Olathe School District, University Academy School District, Crossroads Charter Schools, and Independence School District.
Three of those teachers shared why this initiative felt different and important:

Marquis Hall, M.Ed., teacher at Kansas City Public Schools: "In my five years of teaching, I've seen and experienced systems that are intentionally meant to marginalize students of color. I joined the Master Teacher Project because I wanted to be a part of something that's true to who I am as an educator, and help to dismantle those inequitable systems that have remained so prevalent in education."
Danielle Farr, teacher at University Academy Middle School: "I grew up in rural Missouri, where the majority of the people I went to school with were Caucasian. It felt isolating – there weren't many people representing me or my culture. As a teacher, I've worked to ensure none of my students feel like that, which is why I became interested in the Master Teacher Project. My experiences inspired me to incorporate different cultures into the classroom so that students can see themselves in every content area."
Dr. Shakiyya Bland, mathematics curriculum and instructional learning coach at Lawrence Public Schools: "While growing up and in college, I remember looking for diversity and feeling lost. I wanted to be a part of bringing that to education. So I dug deep into my own understanding of race, bias and anti-racist practices. Through my work with The Kauffman Foundation's Amplify KC, I was introduced to this Master Teacher Project, which aligned with my goal to develop curriculum that builds spaces for our students and our communities."
To view the strategies and learn more about the CRTL Master Teacher Project, visit https://betterlesson.com/browse/learning-domain/22/culturally-responsive-teaching-and-learning-master-teacher-project.
About BetterLesson
BetterLesson provides 1:1 virtual coaching and small group professional learning for educators across a wide range of domains, including culturally responsive teaching, social-emotional learning, curriculum adoption, leadership, and distance or flexible learning. BetterLesson's approach is personalized, job-embedded, collaborative, and student-centered. They have worked with over 11,000 teachers in hundreds of schools across 40 states. BetterLesson values the pursuit of educational equity and is dedicated to ensuring every student—regardless of race, income, national origin, gender identity, ability, or location—has access to an excellent education. Learn more at BetterLesson.com.